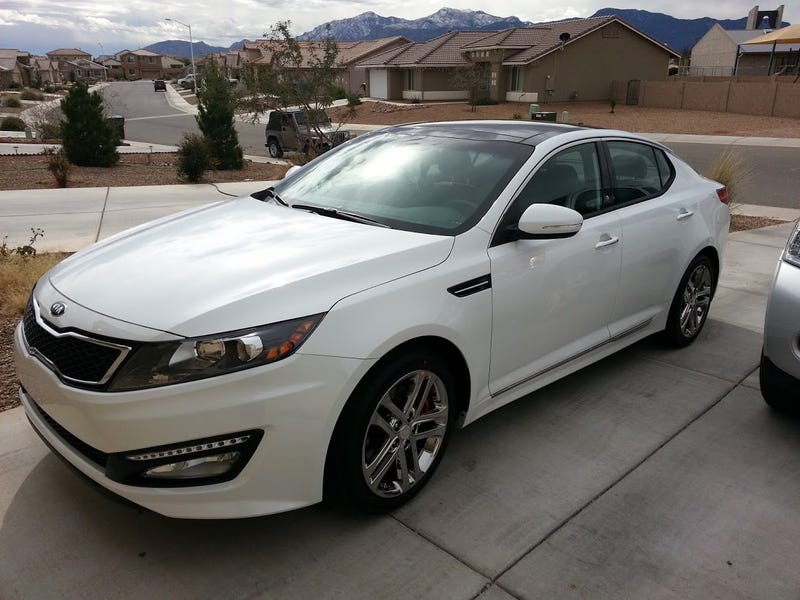 Pictured: Not my car, but it looks really similar.
I daily a Kia Optima. It is a 2013 with about 50k. It has a 6 speed automatic transmission with frustrating flappy paddles. My Optima is white and really hard to keep clean. Like really hard to keep clean. I HATE KEEPING IT CLEAN. It's "automatic headlight" sensor is dimwitted and thinks I want the headlights on all the time. It comes stock with red painted calipers.
However, I still really like it. I really do. Some people pick on me for choosing something boring for my "dad car". So in defense of this Korean midsize "performance" sedan. Let me tell you why I like this car:

1) It has the 2.0 Direct Injection Turbo. That's rated from Kia @ ~270 Hp/ 270 ft.lb of torque. I don't know or really care about the numbers but when I take it out of "Eco" mode, it is pretty quick.
2) Speaking of the "Eco" Mode, it gives me some damn good gas mileage. My commute is like 30 miles round trip each day and its a mix of city and hwy. I get about 30mpg when I am being "spirited" like the police officer said, I get mid 20s
3) I am 6'7" tall, and I fit!
4) The cooled seats are so good. Seriously. I want them in all my cars from now on.
5) People don't realize it is a quick as it is. I have had friends that tell me "LOL NICE OPTIMA" until they drive it and change their tune.
6) Everyone drives an Accord. Bah. Although I really wish that it had a manual. :(
7) Maintenance has been awesome. Then again, the warranty is 60k bumper to bumper, 100k powertrain.
8) The Infinity speakers system are actually pretty damn good.
Only thing I would drop the Kia for in a heartbeat is totally not an old E39 Touring 540i 5MT. Oh, or a new V60 Polestar
Ask me whatever you want if you want.