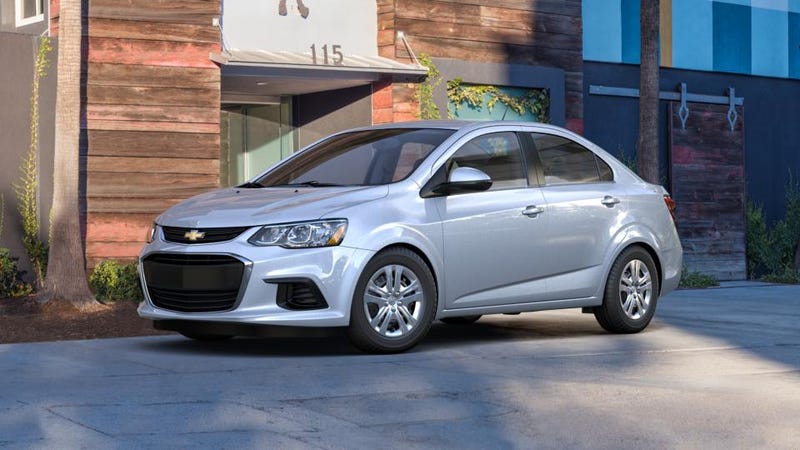 But then I remembered that no one particularly cares about it, even me, and I've driven over 8000 kilometres in it in the last five and a half months. So here's the sparks notes version of it:
(Full disclosure: Chevrolet wanted me to drive a Sonic so bad that my employer bought one to replace the Smart car that, according to everyone before me, was the worst car for the job.)
-Fuel economy is decidedly adequate. I expected better, but with how much idling and low-speed driving I do (as well as time spent waiting on trains), it's not surprising.
-Acceleration is lacklustre. It sounds like it's going to be fast, then you realize that you're at the end of the on ramp, you've been giving it since the safest spot you can, and you're still 10 kilometres under the speed limit
-The infotainment system is fantastic. Easy to sync with Bluetooth, easy to use, leagues better than Sync on the Escapes at work.
-To add onto that, all the controls are great. Knobs and buttons for everything, plus steering wheel controls. This is how you set up the interior of a car, in my opinion (although there is no oil pressure gauge or voltage metre).
-The seat was comfortable. Never found myself hurting after a day of driving.
-Handling is good, in my opinion. It's a cheap car, it's not going to be amazing, but I found it enjoyable to drive and toss around. Plus, the small turning radius is great when it comes to parking and doing a U-y.
-Build quality is trash. I started driving it with around 7500 kilometres on it, and some of the roof trim was already popping out. The fact that there's some chrome on it that looks like it was cut too short when it was put on only adds to the fact that it feels a little cheap. But then again, it's a cheap car.
In total, I like it. I think that for the money, it's a solid choice, although I probably would have sprung for the hatch myself. If you need some basic transportation and can get one on the cheap, I recommend it.
So yeah, feel free to ask any questions below.