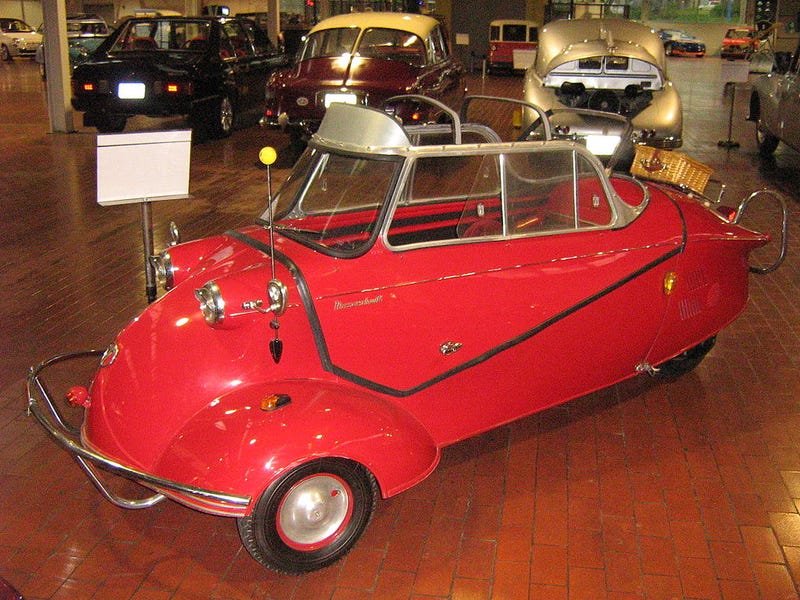 In the months after Germany's surrender in 1945, Fritz Fend was working as an itinerant farmer for 8.50 marks a week. During the war, Fritz had been an engineer who helped design the very first jet fighters for the Luftwaffe. He was clever and creative and seemed destined for big things save for the fact he worked for Evil. After the fall of the Reich, Fritz was no longer allowed to work as an aeronautics engineer, so he set his sights on helping rebuild Germany as a peaceful nation. Like his fellow countrymen Paul Kleinschnittger and Norbert Stevenson, Fritz saw the desperate need for cheap transportation. Germany was bombed back into the Dark Ages and the only way for people to get around were horse and cart, or bicycle. Fend got the idea to produce a covered bicycle kind of like what Charles Mochet had built in Paris with his velocar. It would be dirt cheap and anyone could drive one. However, the manufacture of civilian vehicles was forbidden, and most factories that had survived bombing were being dismantled with their tools shipped to Allied countries as war reparations.
So, Fritz was on his own. He began doing nutty experiments where he'd run around and up and down stairs with weights on his back to determine how heavy a vehicle to build. This also led him to believe that a reciprocating pedal motion like on a kid's pedal car was better than the circular motion on a normal bicycle. In 1946 he gathered up some discarded wood and cobbled together a little trike. It was just a crude prototype, but it was enough for him to get permission to open a "technical manufacturing operation." He bought a ramshackle wooden hall in Rosenheim, a small town in Bavaria, and Fritz M. Fend Technical Manufacturing was in business. By literally trading the Fend family jewels, he obtained tools and machinery on the black market. He managed to scrape together enough funds to hire a pair of assistants and by spring of 1947 was hard at work on a new enclosed tricycle. Materials were frustratingly scarce, so their first attempt had a papier maché body that dissolved in the rain. A breakthrough came when a curious double amputee rolled into the workshop one day. The poor guy was using a board with tiny cart wheels to get around which he complained was a pretty painful way of going from place to place. And there were thousands just like him in the same predicament. There was a disabled veterans association that gave money and could allocate resources to companies that produced products for the handicapped. So, Fritz converted his tricycle to an invalid carriage.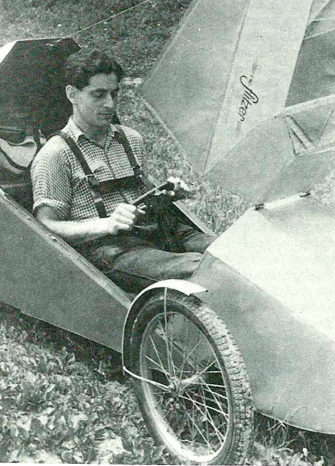 He put the single wheel in back for greater stability. He designed a mechanism where moving the handlebars forward and backwards would drive the rear wheel. Turning them would steer the front wheels. Fritz designed and built a simple tube frame and used scrap sheet metal to form a primitive pod-like body. He called it the Flitzer which means "streaker." I'm not sure it was meant to be driven in the nude however. It sounds heavy, but apparently it would get up to 25 kph. I can't imagine the upper body strength needed. It would cost 200 Reichsmark which was pretty cheap. The veterans association thought it was great and immediately ordered 50. They made all the arrangements for the metal needed for manufacture and Fend began production in early 1948. Right away people noticed it looked like a cockpit which puts away the myth that it was Messerschmitt's later influence that gave Fend's vehicles their unique appearance. After producing several dozen of the human powered cars, Fritz got word of one for sale that had a small engine mounted to it. Fritz had always had ambitions of producing a motorcar, so he started fitting the Flitzers with 38cc 1 horsepower Victoria moped engines. It was small enough to still be classified as an invalid carriage, but the able bodied started buying them as cheap transportation, Fritz's original intent.
With the rise of Soviet influence in East Germany, manufacturing regulations in West Germany were loosened. Fritz tinkered with the design to make it a more viable mode of transport. He offered open bodied and enclosed cars and even experimented with an inflatable roof to save weight.
In 1949, Fend began using a larger 100cc Fitchel & Sachs engine which put out 2.5 horsepower. The Flitzer being so tiny and light, that was enough to make it quite a capable machine getting up to 60 kph. To improve handling, the bicycle wheels were replaced with smaller wheelbarrow tires. After a hundred or so cars in a year and a half, Fend upgraded to a 4.5 horsepower horizontally mounted single cylinder Reidel engine that was originally developed as a starter for the Messerschmitt ME-262 jet that Fend had worked on. One of these Flitzers crossed the Alps an impressive feat for any car of that day.
Fritz had convinced Dunlop to make a small proper car tire which greatly improved the way the little thing drove. By 1952, a little over 250 Flitzers had rolled off the production line. The cars were successful, but took a long time to build. Since he had to keep the price low enough for his clientele to afford, Fritz wasn't making much profit on the Flitzer. So, he designed a clever little utility scooter that could be constructed quickly. It became popular enough to keep the factory running.
However, Fend had outgrown the little dilapidated building and looked to expand. So, he approached a familiar name. His old boss Willy Messerschmitt's factory was intact, but was prohibited from building aircraft. So, they made whatever brought in money from woodworking machinery to sewing machines.
Willy knew Fritz was a talented engineer and liked the crowd of people who gathered around the little car he drove up in. He agreed to partner with Fend to build Flitzers with his name on them, and the profit-friendly scooter, in his former aircraft factory. But, Willy didn't like the fact that the Flitzer was a single seater. He wanted something that could seat two. And so, the tandem-seat Messerschmitt Kabinenroller was born
Fritz designed it from the ground up. He took the basic Flitzer shape and lengthened it. It got an all new tube frame with basic rubber torsion spring suspension. It was powered by a Sachs 175cc motor that made 9 horsepower, enough to propel the KR175 to 90 kph. It had direct steering with handlebars, and cable brakes on all 3 wheels.
The engine was a kickstart as opposed to the old pullstart on the Flitzer. It also had a cooling fan which was an improvement on the old Reidel starter motor. Twist grip throttle, and hand clutch and shifter made it still appealing to handicapped vets. To keep weight down, a novel plexiglass dome served as a roof topping the signature side-hinged canopy.
It made its debut at the Geneva Motor Show in March, 1953 with a price of 2100 Marks. It became an instant sensation even with the rather ominous nickname "Snow White's Coffin." The ride was rough and it was noisy as hell, but its only competition were the less refined Kleinschnittger and Fuldamobil microcars. It was also the right price and soon the Messerschmitt factory was producing upwards of 80 cars a day.
Cars were exported all over Europe and it quickly became the best selling microcar. It was only a little more expensive than a scooter and it kept you dry. Few people could afford an actual car on the war torn continent in the early 50's, so something like a Messerschmitt was a status symbol, albeit a humble one.
Soon, though, the microcar market became crowded. Cars like the Lloyd and Goggomobil more resembled real cars than the Schmitt though they were comparably powered. BMW's Isetta was competitively priced and offered side by side seating. Also, the clear dome was expensive to make which pushed the price to 2450 DM. So, Fritz redesigned the Kabinenroller in 1954. He improved the suspension putting hydraulic shocks on all wheels, and gave it a wider front track and wheel arches. The rear wheel was also now suspended on a swing arm. A new 191cc 10 horsepower Sachs engine with dynastart was mounted with rubber brackets.
The interior was gussied up a bit and the handlebars were replaced with an airplane like yoke. This also meant it had foot pedals and a proper shifter like a normal car. The windshield became curved and the wiper was even given an electric motor.
Most importantly, the plexiglass dome was simplified making it stronger as well as cheaper to produce. For the first time the car also had reverse. This was achieved by turning the two-stroke engine off and twisting the key counter-clockwise in the ignition. This would start the engine backwards which meant you now had 4 reverse gears. Two-strokes are amazing. Even though it had a cooling fan, the Sachs would on occasion seize up on hot days or under heavy load. Being a two-stroke, though, it would cool down and free itself after a little while. The Messerschmitt owner's manual recommended smoking a cigarette if this happened and by the time you were done, you should be good to go.

The new KR200 was an impressive performer. Its top speed was now 100 kph and the new suspension made handling pretty outstanding for what it was. I've driven a few and they're a blast. Sales of the new car were better than the KR175 even with a 2500 Marks price, but the little cars were still not money makers. The versatile little utility trikes (now improved and called the "Mokuli") sold just as fast and actually made a profit.
To jumpstart sales, a special "racing" Messerschmitt was constructed. The motor was juiced to 13 horsepower and a sleek, aerodynamic body was built. The souped-up Schmitt was run for 24 hours and set world records for a sub 360cc vehicle getting up to 140 kph.
It wasn't enough to improve Messerschmitt's financial situation and by 1956 the company was deep in debt. By this time the restrictions on airplane production had been lifted and Messerschmitt was ready to go back to what they did best. Fritz got an investor and formed a company called Fahrzeugund Maschinenbau GmbH, Regensburg, to buy the car production line from Willy. Starting in 1957, the KR200 was still called a Messerschmitt, but now had an "FMR" badge in place of the soaring bird.
A cabrio was introduced as well as a cheaper roadster. To bring in money, Fritz designed a small military Jeep with two independent two cylinder engines so you could switch from two to four wheel drive. It was totally symmetrical for cheap manufacture and was a clever machine, but Fend never got close to a contract to build them. Fritz desperately wanted to build a real car and Messerschmitt actually did build a prototype for a small 4 wheeled car back when Willy was still involved.
But, the expense of reworking the factory for producing a more complicated vehicle was prohibitive. As an alternative, Fritz hit upon making a sports version of the Kabinenroller with a "big" motor and 4 wheels. He designed a new wide-track rear axle and got Sachs to boost their 400cc two-cylinder stationary engine to 491cc's and 26 horsepower. It was mated with a 4 speed gearbox with a proper reverse gear. It may not sound intimidating, but the "Tiger" as it was nicknamed is a little screamer.
It steers tighter than a gokart and zips along fast enough to feel like a million miles an hour that close to the ground. At 3400 Marks it was too expensive for a microcar and sales topped out at 320 cars.
Today, it's maybe the most valuable microcar fetching six figures at auction. By the end of the 50's, the economy in Europe was improving and microcars lost their purpose. You could now buy a Beetle or a Mini. No one wanted to be seen in a rickety little scooter-car. The fad briefly reached to America, though. Elvis had a Messerschmitt and it was one of his pride and joys.
The FMR factory started manufacturing Coke machines, and by 1964 production of the little cars had slowed to a trickle. It was no longer profitable for Sachs to produce the 191cc motor and when they stopped making them, FMR ceased manufacturing microcars. FMR did keep making beverage machines for years, though. And, Fritz Fend remained an engineer. You can thank him for the alarm in cars that tells you your lights are on if the key is in the ignition and the engine is off. In the 90's, he got back into car designing producing a new plane-like three wheeler called the F2000. He built a prototype that had an ultra low drag coefficient of 0.11 that Fritz said would help it get 100 m.p.g.
Unfortunately, he died in 2000 before he could get the project off the ground.
Over 50,000 Messerschmitts and Flitzers were built and sold making it one of the most successful microcars of all time. It's a prized collectible today and an important part of postwar Europe's history. It helped keep people moving and the factory provided much needed jobs. Also, Cousin It, the hippest member of the Addams family, drove one as well as the guy in Terry Gilliam's Brazil.
Have a merry microcar Christmas everyone!