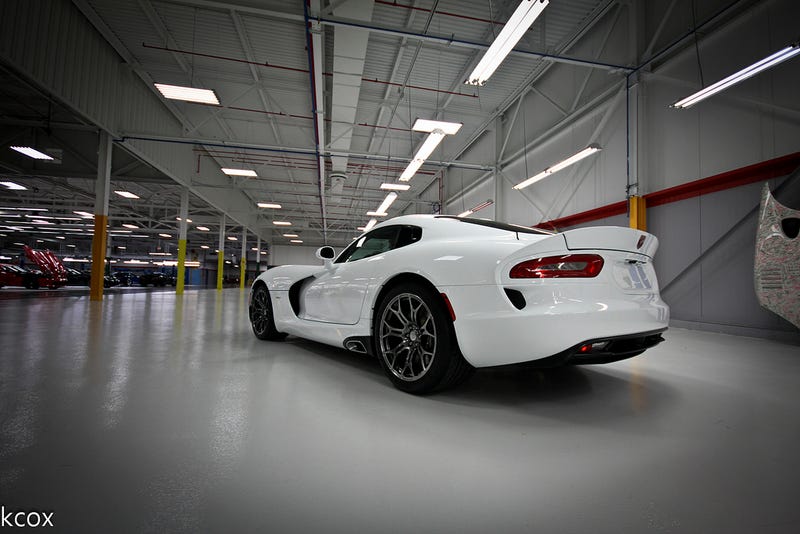 Chrysler still builds cars in the city of Detroit? Yeah, they do. And not just any cars, but 6 figure, 640 horsepower-ed, Halle Berry inspired, American supercars.
Recently a couple of my friends had the chance peak behind the curtains at Conner Assembly. Tony(some of you may know him as Nine Ball in the car forum world or as the owner of Deviate Motoring) ordered his '13 Viper as soon as they started taking deposits. Because when your '06 SRT-10 gets to that +1000rwhp level, you need to find a new daily driver. Our buddy Kenny skipped work that day too, and brought his camera along.
SRT told them they could take pictures of everything. EVERYTHING. Except that one thing: a matte black car on matte black wheels that looked, and I quote, "evil." Future ACR? But I digress....
Tony had this to say about Conner:
I've toured quite a few vehicle manufacturing plants in my life, just recently I've been at Ferrari, Lamborghini, and Corvette plants, so I do have a little expectation of what I'd see. One thing that set this Viper plant apart was all the historic Vipers parked inside the plant, as if they were keeping an eye on the younger generations being built. You could feel a great sense of pride among the employees, who were happy to wave and answer any questions. We were allowed to take photos to share with you, so we took a LOT of them. We walked the assembly line, getting a good look at each station and what was done. It was exciting to see so many Vipers in all of their colors and trim configurations, as I'd only seen the Launch Edition and Red Track package cars in person before that. The CAAP plant was spotless, even the tool carts and floor had a new coat of paint on them. Endless walls of Viper photos, posters, and American flags were present. Good stuff.
I thought Tony's first person observations were interesting. At a SRT event in 2011, Ralph Gilles talked in general terms about the new Viper, about how it was going to be hand crafted on a world class level at CAAP. I was a bit doubtful, cuz you know, I watched the Ultimate Factories episodes that featured Ferrari's plant in Maranello and the Viper plant in Detroit. Ralph kind of laughed. He said he'd toured Ferrari's operations and the on screen disparity in procedures could mostly be attributed to "better editing" of film. Not that I didn't believe Mr. Gilles, but he is...you know...the CEO of SRT. Tony isn't a "mopar guy", he's an experienced gearhead that buys what he likes and doesn't pull punches. For him to be impressed with the Detroit facilities says something to me.
And the, of course, the reason for the trip:
Eventually the tour ended up along a row of historic Vipers, and one car under a hidden drape....
So yeah, Chrysler still builds cars in the city. I use to work about 5 miles down the road from Conner Assembly, at one of the Mack Avenue engine assembly plants. Co-workers were robbed at gun point, had windows shot out while pulling into the lot, have had their vehicles stolen from that "secure" lot, etc.,etc.. Our ceiling leaked from dozens of holes created by hot slugs landing on the rubber/cork roof. One night we had a bullet bust through the front entrance and ricochet off a structural beam. While I don't think it's completely lost on the masses, I DO think it's hard to fully appreciate the juxtaposition of the final product and it's surroundings without being familiar with the area. It's a stark contrast.
I met up with Kenny and Tony at the Vinsetta Garage for lunch after their tour. I'd seen the new Vipers up close at SEMA and the NAIAS, but those were all pre-production cars. After watching Top Gear tear it apart for the fit and finish and other journos give it grief for the seats, I can't help but think SRT made a mistake in pushing those cars out to the press too soon. Tony's car has none of those issues. The attention to detail, the panel gaps, the quality of materials...all top notch in the final product, as they should be in a $110,000 ride.
After hitting Woodward for some rolling shots, Kenny and I wished Tony safe travels as headed south. If you want to see more from Tony about his trip, check out his write up on ViperClub's forum. Also, all of Kenny's pics from the day can be seen here.