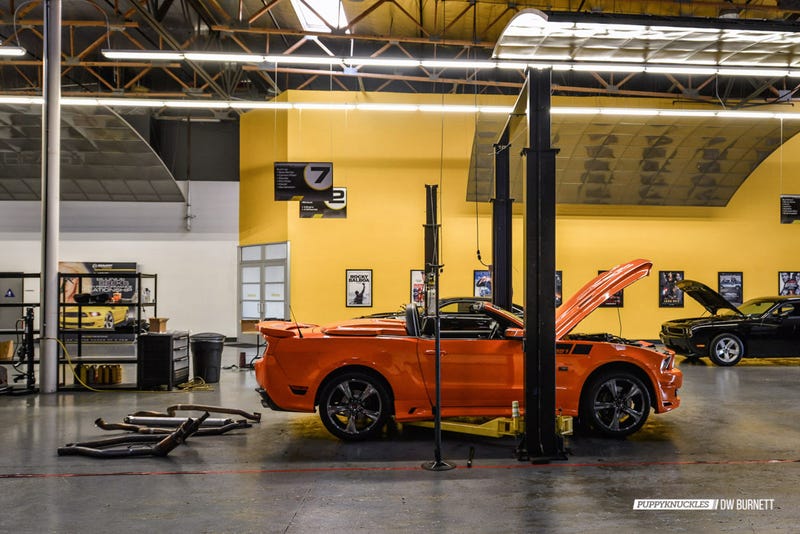 Let's say you're a fan of all-American muscle, and you want to stand out from the legions of other Mustang, Camaro, and Challenger owners prowling the streets. You need presence. You want to intimidate. You won't be satisfied until you have the ability to instantly vanquish large amounts of fossil fuels with your right foot. Enter Saleen. No mere tuner, Saleen is one of the leading performance houses in the world and they are creating arguably the most fearsome street machines ever sold with a warranty. I took a quick spin through their spotless, near-showroom-quality factory recently and saw where these beasts are born.
Saleen currently produces three different cars: the Saleen 570 Challenger, the Saleen 302 Mustang, and the Saleen 620 Camaro, as well as a handful of special editions. The factory is nestled at the end of a long corporate park in Corona, CA, the access road for which has a peculiar abundance of black tire marks. The cars in the parking lot are driven by employees to shake down new parts.
It's hard to believe they build cars here, it's too clean. The facility is basically two assembly lines and it was designed to feel as much like a showroom as it does a factory. The cars come here straight from Ford, Chevrolet, and Dodge, brand-spanking new, and are immediately disassembled. Every car is going to get the Saleen visual touch: bumpers, wheels, grills, hoods, interior trim as well as a baseline performance enhancement in the powertrain and suspension. But some cars get entirely new engines and major components that completely takes things to a new level. The orange convertible in the lead image above is undergoing the transformation to a 700+ horsepower monster Saleen 351, the most ridiculous Mustang Saleen has ever made. It gets a whole new 351 cubic inch motor that has been punched out from the 5.4 mod V8, as well as serious braking and suspension upgrades.
Read the whole factory tour at puppyknuckles.com