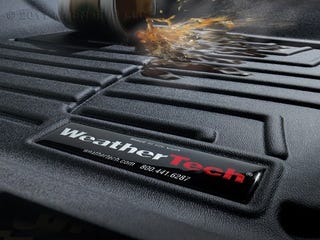 On a road trip, wife eating something crumbly in the passenger seat. I notice some stray crumbs, ask her to be sure to keep the bag in her lap to capture them. She gives me side eye and says, "I know, I know . . ." and I say, "Hey there are some people who won't even let there be food in a new(ish) car." Then instant karma . . .
That moment, I lift up my coffee cup, and somehow fumble it, splashing some on my shorts leg, a bit on the seat and carpet. Most ended up on my all-weather floor mats. Happily I could laugh about it, wasn't like I was dressed fancy or anything, and the clean up was pretty easy.
As you can imagine, she was laughing so hard that she was in tears.