I was looking into hand wash car washes in the area because, damn, this a lot of surface area to wash now that it has a cap.
Well I noticed their pricing on full detailing is a bit odd in my opinion.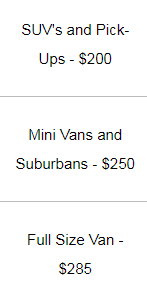 Why would SUVs and pickups be less than a mini-van? Why is a Suburban in its own category (what about the Expedition/Excursion/Armada/etc or are these "Suburbans")?