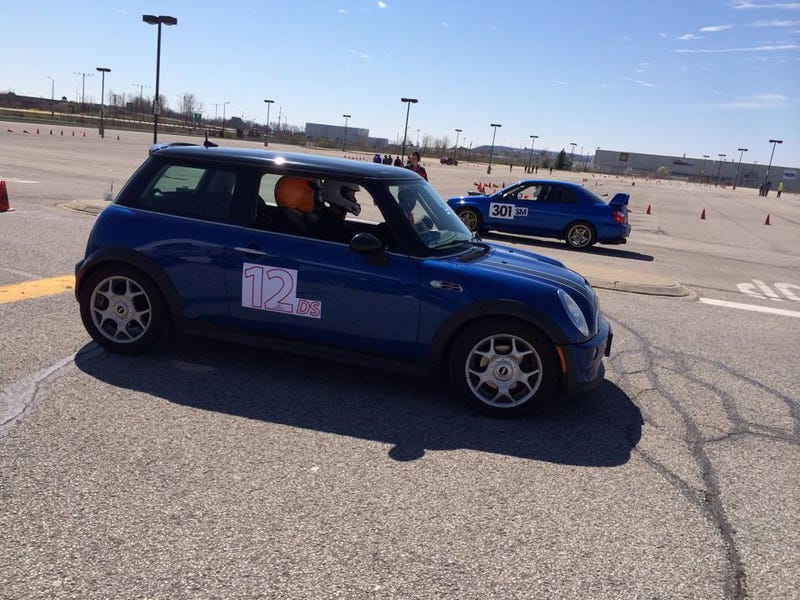 I have a confession to make. I've conducted basic maintenance on my '05 MINI Cooper S such as oil changes, but have frankly been neglecting it since buying it as a college freshman in '10. The car has been a total trooper. Finally, she gave a couple of months ago when the passenger rear caliper seized up on the rotor and, upon inspection, the driver's side was about ready to go as well. Embarrassing, especially since I autoX. So, I replaced both rear calipers as well as rotors and pads all around. A couple of days ago I got a thumping noise in the passenger rear. Not rocket science - definitely a broken rear sway bar end link. Good for the car for sitting outside in Cincinnati winters and getting autocrossed and holding up that long.
So, fresh out of school, it's time to give the car the attention it deserves and desperately needs. I just ordered:
Alta V2 adjustable sway bar end links (I'll get a new sway bar soonish)
5w-30 full synthetic engine oil (Havoline, because it was discounted)
Manual transmission fluid
Oil Filter
Oil drain plug
Cabin Air Filter
Engine Air Filter
Alta 15% pulley
Alta lightweight crank pulley
Belt tensioner
Serpentine belt
Techron fuel cleaner
Coolant
NGK Iridium IX Spark Plugs
Plug boots/wires
My question is threefold. First, can you guys think of anything important to add to that list? Second, what would you recommend allowing a shop to do, versus doing myself? I'm definitely going to hand off the belt/pulley. Flirting with passing off the coolant flush and end link jobs as well. Finally, can you please please help me when my car is stuck on jack stands and I f*ck up?! Okay, that last question is mostly begging.
Thanks for any help and sorry for the long post.
TL;DR I neglected my car. Now it needs some love. I'm intimidated and need a little help.