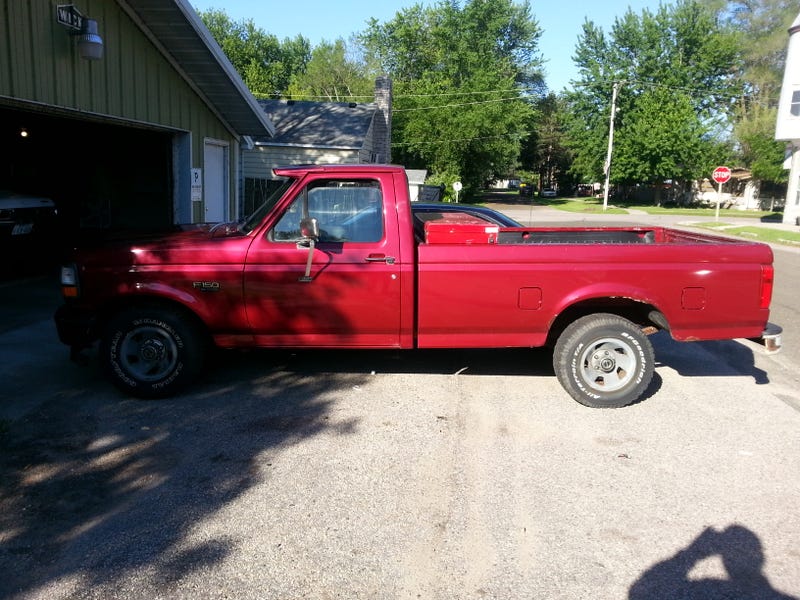 Today was the first time I drove it... and also the first time I worked on it.
The TohruTruck Mk. 3 is a 1993 Ford F150 XL with 187,460 miles on it. It has the 4.9L inline-6 mated to an automatic transmission. It has rust and body damage, but the cab is still 95% rust free. It is the dual-tank model, but the previous owner's son hit something on the road and fragged the back tank. The tires are mismatched, the left vent window doesn't seal tight (latch is snapped off), and it only has an AM/FM radio - no cassette or CD player. Also, the AC needs to be recharged and the cruise control is inoperative.
It only cost me $500 though.

Since the previous owner used it as his "run to the dump on the weekend" truck, it hadn't gotten an oil change in 3 years. So I had to do that first thing.
While it was up on the ramps draining, I took my paint and rust stripping wheel on the drill to both front bumpers. Then I hit them with primer, and some old left-over Krylon Fusion black metallic shimmer paint. It gives a pretty cool effect. They actually match now, too - the front was black and the rear was silver.

The Celica is still being worked on. It missed its deadline of being finished on Thursday just because there was so much to do.
Rear bumper is finished!
Front is done too!
I have been considering custom plates for it - they cost $15 extra per year. Leave your suggestions in the comments below!