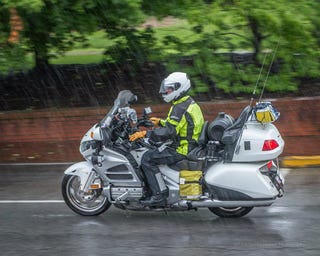 Today is the start of the 2017 Iron Butt Rally, which is, in my opinion, the most hard core thing you can do on a motorcycle.

This year's rally starts and ends in Minneapolis (actually, within 5 miles of my house). Riders leave around 10am today (6/24) and will return on 7/7. Riders are given bonuses to collect throughout the rally. The rider with the most points at the end is the winner.

Most riders ride a minimum of 1000 miles per day each day of the rally. Extra fuel, lights, and good gear is essential. Route planning and execution is also crucial.
Just putting in that kind of mileage is quite a feat, but trying to plan a route and be competitive is also an incredible task. The rally organizers are known for putting in bonuses that are unreachable in the allotted time just to mess with the riders. So, plan your route in your sleep-deprived stupor, ride 20 hours a day for two weeks, and then see where the points fall at the end.

If you're interested you can follow along here. They have live GPS tracking and do very nice detailed reports daily.