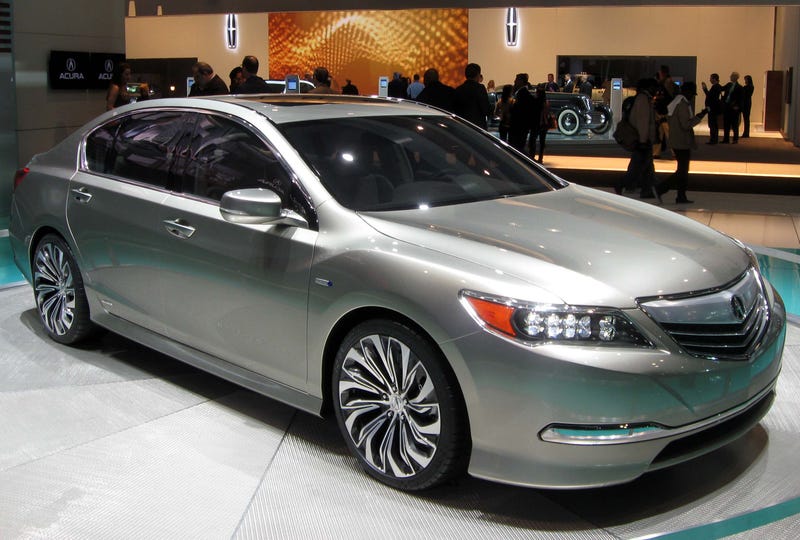 Above is, well, you know. An RLX, in case you didn't. Acura advertises it as being competitive with the German competition (in their dreams) thanks to "Super-Handling" AWD (and yes, before you complain, I'm aware that "Super-Handling" is a legitimate thing). How many of you are actually convinced of that? Motor Trend's first drive suggests that the SH-AWD might be legitimate at supporting the car's handling, too, but not having access to an example, I simply won't be able to tell for myself.
Moreover, Acura had once hoped, back in the 90s, to be the default choice of middle-of-the-road America, to provide a little more than just basic transportation - the Integra and even the Vigor/TL would provide a little bit more sport but the RL in particular would provide more comfort than the typical car-buying options. Acura hoped that every Grandpa Dick, Daddy Tom, and Momma Sally would want and own one.
Hey, that sounds really familiar.
Watching that "promotional video" made me realize that Oldsmobile in the 80s was exactly what Acura wanted to be in the 90s and is still trying to be. Acura doesn't have Oldsmobile's problem of crummy cars with crummy build quality. I think regardless of the automotive situation, I think Oldsmobile would've still gone by the wayside because the reality of the car market's changed. You can take a look at Cadillac and the European competition. Rich people want enthusiasts' cars.
More specifically, the Acura RLX (and TL/TLX) have a big problem in that Honda already builds what every Grandpa Dick, Daddy Tom and Momma Sally want for much cheaper, and it's called the Accord.
I know people hate crossovers but BMW, Mercedes and Porsche are able to sell them. They sell them based on the enthusiast image. The Lexus RX350/400 Hybrid, traditionally the best-selling luxury car in North America period, sells because.... Acura has an SUV practically identical to the RX350 and for all intents and purposes, also to the X5 and and ML, called the MDX. Yet despite a very recent redesign it's still somewhat of an also-ran on the luxury crossover market.
So is Honda just repeating the same mistakes GM made 20 years ago, just with better build quality? Will we soon be seeing odd, locally-hired "actors" complaining about Acura's bland styling and touch controls?