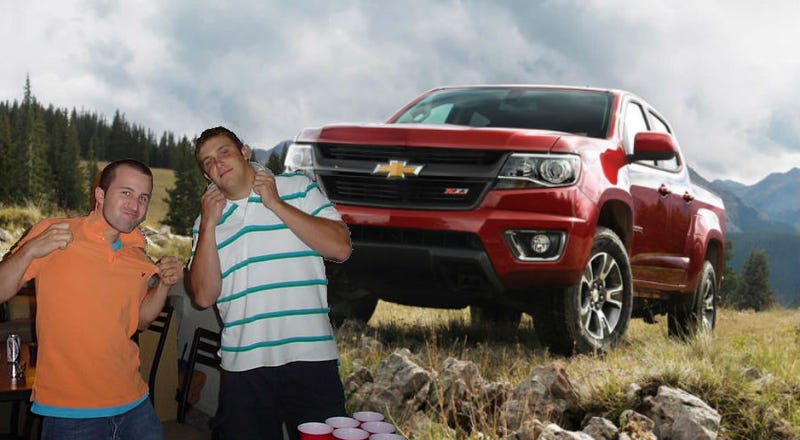 The new Chevy Colorado is, apparently, a pretty nice truck. I wouldn't buy one, because GM saved full-time 4wd for the GMC Canyon. So if GM isn't marketing the Colorado to me, who's their target buyer? Judging from their commercials, I believe I know the answer:
GM's target Colorado buyers are assholes.
GM has been buying tons of ad time for the Colorado. The most commonly-played (and annoying) ad starts with a mopey-looking guy drives to work in a 10 year-old Honda Civic while boring music plays. A confident-looking guy walks out of the same office building, and the music changes...to AC/DC played by a bluegrass band busking out in front of the office building. Cue the big reveal: this dude is so confident he changes background music to bluegrass covers of AC/DC because his Chevy Colorado makes him such a badass.
(Side note: does the Colorado actually make that totally fake chirp-chirp noise when unlocking it with the remote?)
This commercial is mostly nonsense, and mostly annoying because of its shitty music. The implication is HEY YOU DON'T WANT TO BE A SISSY WITH AN OLD CIVIC, GET THIS HERE TRUCK AND BE A MAN. That theme continues with a similar spot:
DON'T BE LIKE THIS PANSY ASS SCHLUBBILY-DRESSED VAGUELY HIPSTER NERD ON A VESPA, YOU NEED A MANLY CHEVY COLORADO.
After these couple spots, Chevy went full-bore into talking about the image you'll have from driving a Colorado, in their new "Truck Guy" spots. These ads consist of focus groups looking at identical pictures of a guy standing in front of a car in an office park: one with a previous-generation Corolla, and the other has him in front of a new Chevy Colorado. These focus groups start out semi-innocuously enough, with a bunch of kids saying the Colorado guy has cooler pets than the Corolla guy:
But again, the underlying message is IF YOU DON'T WANT TO BE A WEENIE, YOU WANT A CHEVY COLORADO SO YOU CAN BE MANLY.
These Truck Guy spots get progressively more stupid. The next features a group of dudes with giant beards (WHAT'S MORE MANLY THAN BEARDS?) who are impressed with Truck Guy's theoretical handshake.
HAVE THE FIRMNESS OF YOUR HANDSHAKE RESPECTED BY BEARDED DUDES. BUY A CHEVY COLORADO.
But wait, that's not all!
BUY A CHEVY COLORADO AND YOU CAN STEAL THE WIVES AND GIRLFRIENDS OF BORING-ASS DUDES DRIVING COROLLAS. THE CHEVY COLORADO WILL LITERALLY GET YOU PUSSY.
So to sum up, you should buy a Chevy Colorado to make sure you avoid being some loser driving an econobox (or Vespa). Kids will think you have a badass pet like a cobra, bearded dudes will think you have a firm handshake, and women will want to fuck you. You are awesome. So awesome that bluegrass bands spontaneously play AC/DC when you walk buy.
Hmm maybe I should get a Colorado. Who needs full-time 4wd when I can have all that awesomeness?