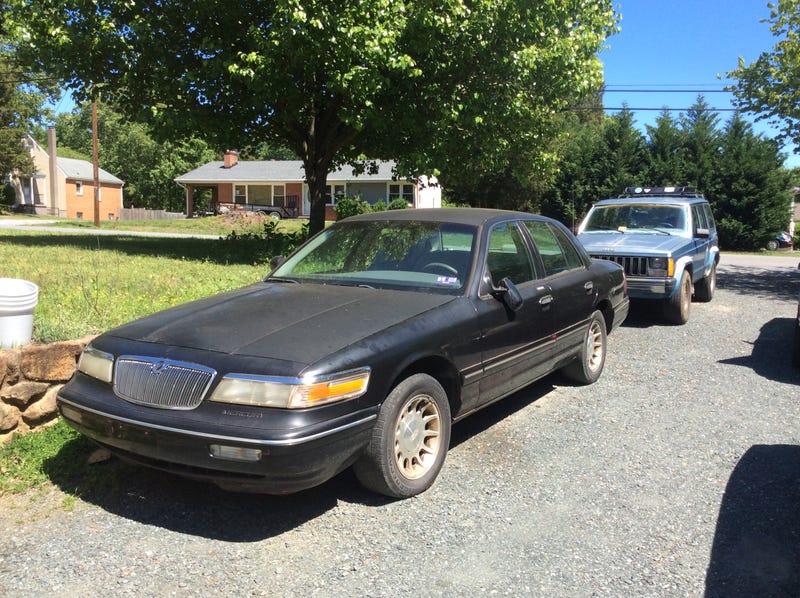 That's a good question, one I've been asking my self frequently weeks after acquiring project panther.
To catch you up to speed I bought a 1997 Mercury Grand Marquis for $300 that had 120k on the engine before the prior owner 2x back took it apart. When I say apart I meant the manifold, valve covers, and the front timing cover. . I bought it off of fellow Oppo and my FSFL cohost Forgecrownvictor or Forge as we call him on the show.

What in Gods good name made you do that ?
Honestly it was the fact that I missed my old Crown Victoria and My 87 Jeep isn't the best for long hauls in terms of comfort and highway MPG. And the Pi heads that came with it.
Yea, so the car came with PI heads from a 99 Mustang along with the stock NPI heads.
Are you going to use them ?
Well, no.
Let me explain, I was very excited to do the swap, but I can get much of my investment back by selling the PI bits and saving some time in the process.
I'm a broke college student with other priorities, I can wait for a HI-Po panther When I can afford to, after I get this running I'm selling the jeep or it's replacement to fund my.... other expenses
Well I need new timing guides and a plethora of Gaskets, also a very expensive tool to align the crank.
How are you swinging that ?
I have my resources
Do I regret this project, no. I would have regretted not buying it. If things look my way I might end up buying a new block and putting the heads on that. It's not for everyone though. When looking at an unfinished project I guess in some cases it really has to be worth it for you in some cases in terms of cost and the vehicle. Considering I bought my old CV for $600 this isn't so bad.

Shut up