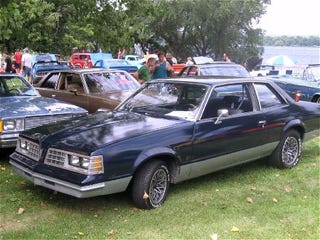 The front-page NPOCP Hurst olds got me thinking... I am not a big fan of GM G-bodies. I drove an 81 Monte in my youth. It was a set of wheels, but I never really loved the thing, it was big, ponderous, not very fast (3.8 V6, auto), and was a hand-me-down.
It got me thinking about what I would build from GM in that era, if I couldn't do a Mustang, or something imported from Europe. Plus, I have wondered in the past, what sort of car has the sharp, thin rooflines like some of the european boxy GTs, like Ferrari 400/412,
or the DeThomaso Longchamp.
About the only GM thing (and one of the few american cars period) from that era that has that sort of simple boxy shape, and thin roofline with the slightly raked rear glass... is the 78-81 Chevy Malibu and Pontiac LeMans.
The Malibu has the strictly flat window sill line... but I kind of like the up-kick in the LeMans, that sort of works to emphasise the rear fender arch... plus, Pontiac is mourned for being gone, which is compelling to me. for GM, I would build a Pontiac or Olds. Concerning Ford, I would build a Mercury.
So, for the last couple of days, I have been rolling around the idea of how to resto-mod a 78-81 Pontiac LeMans more into a Pro-Touring sort of idiom, with a bit of inspiration from the italian GTs I mentioned.
Chassis stiffening and custom IRS and IFS with modern brakes,
T-tops grafted from a similar vintage 78-80 Monte Carlo, just because I like T-tops, and Malibu/LeMans didn't get them, because Monte and Grand Prix, and other G-bodies did.
A custom hollowed out Pontiac grille something similar to a 1st gen Firebird.
GNX-like blacked out trim and fender flares, maybe even GNX or later 80s era cleaner Regal tail lights.
Maybe a 2nd Gen Firebird fender vent grafted into the fenders... but that might be a little too much.
Maybe just to be different... a Pontiac OHC 'Sprint' slant-6, or a DOHC Quad 4 with a turbocharger and port fuel injection. Everybody does crate V8s... and Turbo V6 is a primarily Buick thing, but those are options to consider, too.
Lowered and raked just right, with enlarged fenders (GN/GNX flares) for larger diameter wheels and tires... something like 17" staggered-width Pontiac snowflakes with meaty tires.
Seems like it might turn out to be interesting, and something that is unique, and not the usual muscle-car or F-body fare that tends to get all the attention.