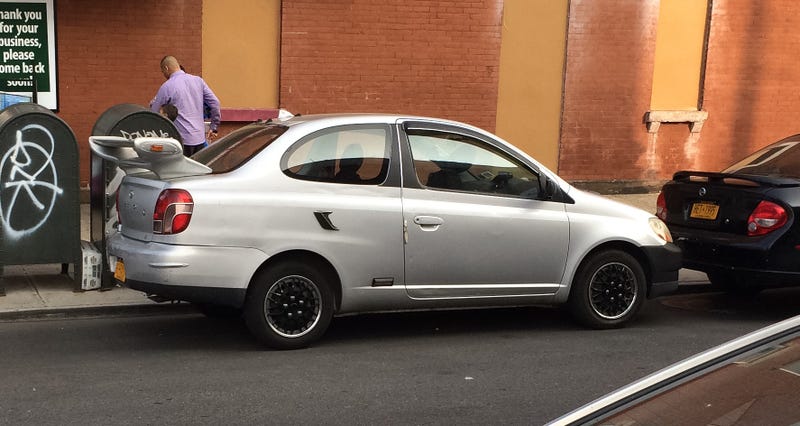 We find ourselves looking at a fierce reminder of every iota of the 108 standard horsepower this 2002-2005 Toyota Echo came equipped with. Unfortunately the front end damage is the best thing that ever happened to this particular specimen.

What draws our eye to it? Is it the appliqué brake vent? Or maybe second appliqué brake vent, you know, the one positioned to ventilate the rear strut towers so they don't melt due to the massive downforce from the two-tier spoiler that's wider than the body? Maybe it's the faux BMW shark fin antenna, or the abandoned mounts behind it, the somber reminder of the Evo diffuser lost to an overly aggressive car wash. Or maybe its the contrast of the black wheels against the glistening silver of its sculptured form? These, and to say nothing of the obscured hood scoop AND NACA duct. Clearly, this EchoVIII330WRX, She Is a Thing of Beauty.
So what do YOU think, is this a shining example of "all things are possible with God" who clearly must be protecting the driver on his 140mph freeway races? Or is this someone's 24 Hours of Lemons weekend driver (note: does not have roll cage, but could be a different series)? You must choose.
UPDATE 6/29/16: I saw the driver of this last night, and we have a long-awaited answer.
Was walking to the deli late in the evening and spotted it with hazards on across the street. 4 high school-age guys with basketballs and gym bags hopped out, driver excluded. When he drove away (the muffler is also not in great shape) I confirmed he was also high school age, and really nailed down the "awkward and doofy (but likeable (though not so likeable to get invited to exciting things)) wishes-they-were-more-athletic" vibe. A real aim-to-please type. As the saying goes, takes one to know one, but thank god I had a slightly better car at that age.

So, based on direct observation, I'm putting this one in the books as a parody.