Well, I've gone and done it. I kinda-sorta took the consensus of the fine folks of oppositelock on this one. For those that didn't read the earlier post I was tired of looking at the gold bow ties on the front and back of my Volt.
The main suggestion was go to with blue to both match the car itself and be a throwback to the earlier blue bow tie from the 60's to the 80's. This is what I ended out with.
As I'm sure you can spot that's not plain blue. I went with a vinyl that had a bit of a weave patter, and oddly enough there is actually a weave to the vinyl and not just a printed on weave patter. I like that it lets the bow-tie still stand out, but I also feel it is a bit of a throwback to the earlier bow tie designs. Like this one: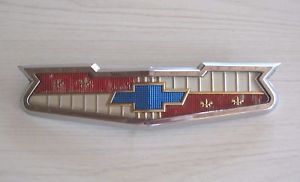 You can see that in this emblem the bow tie has a textured look to it. As the former owner of a 1958 Impala I liked the concept.
I did the one on the back of the car as well. The front was actually easier because the division between the gold bow tie and silver surround was better defined. All told from cleaning to final cut took less than 20 minutes.
I have no idea why that posted sideways. It was oriented the proper way in my photo folder.
I even tried to do the do the bow tie on the steering wheel. Unfortunately, the edge of that bow tie is chamfered towards the chrome surround making it much less defined and harder to work around. I still have enough excess material to make another couple of attempts when I have a little more time.