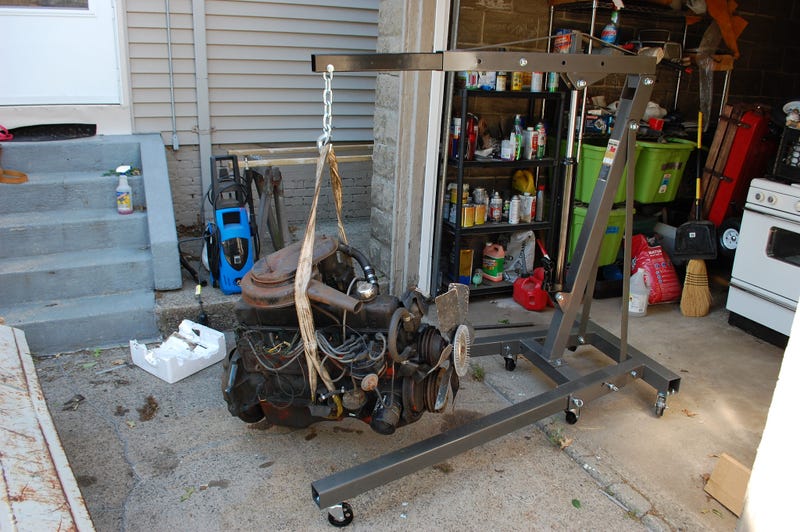 Yesterday I started in on the major truck project that was supposed to happen this spring before I broke my collarbone. I'm pulling the very tired 230 inline and 3-speed and swapping in a 18K mile 250 inline, and a 3-speed with overdrive. I'm also rebuilding the front suspension and adding disc brakes with a 2" drop.
Yesterday a friend came over and between her, my partner and I we had the hood, bumper and entire front clip pulled in an hour. That went so well we decided to pull the engine & trans while they were there. Disconnecting everything and getting the cherry picker set up took another hour.
Then we spent the next 1.5 hours trying to get the driveshaft yoke to slide out of the transmission. It did not want to come out for anything. I ended up ratchet-strapping the engine to the front frame crossmember while it was supported by the cherry picker, then a combination of prying the yoke while someone violently rocked the engine from side to side and the third person trying to tighten the ratchet strap finally pulled it out.
Then of course it started to rain. So right now the pulled parts are in the garage, the stripped truck is in the driveway. Next step is to powerwash the frame and front suspension to make pulling 52 year old suspension components a little less nasty.
It is looking like when I get everything stripped off the frame front I'll be sandblasting it. Two years ago I went over it with a wire cup in angle grinder and painted it with tractor paint, and the rust has already popped back through the paint almost everywhere despite no winter driving.