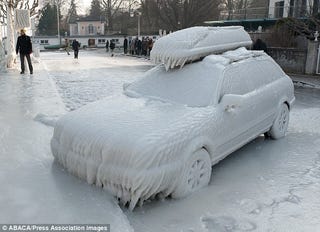 This is what it felt like in my car when I got in. It was so cold over night that my gauge cluster's plastic cover frosted up. So here are some cars that are a bit warmer, add any you'd like in the comments.
An Audi two days after it's warranty expired
Cops need to stay warm in these arctic conditions too.
Stay warm Oppo, I hope your heaters are as good as these.
Edit: Added Peugeot on fire, thank you Clarkson.