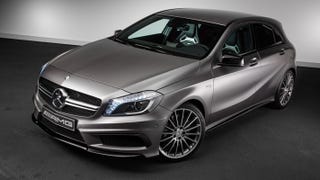 Yep top gear now has pictures of the A45 on their website. 
 So yeah, 360 Hp, 450 Nq of tourqe, 4WD, 7speed autobox from the SLS Plus, and 0 to 60 in only "4.6 seconds" (being german, turbocharged and 4wd I wouldn't be surpised if it wasn't in the low 4's).
That being said  there's is one sad tidbit I have to add; originally some of AMG's enginers said the A45 was going to have a 30:70 torque split to keep in line with their RWD cars. However apperently it will only have UP TO 50 percent of the power at the rear, with the car predominately being FWD....
Wow AMG, your going to put what is basicly a front driver up against the 1M successor. I mean, just wow. First the E55 bi-turbo, then this. Fuck you AMG, fuck you.