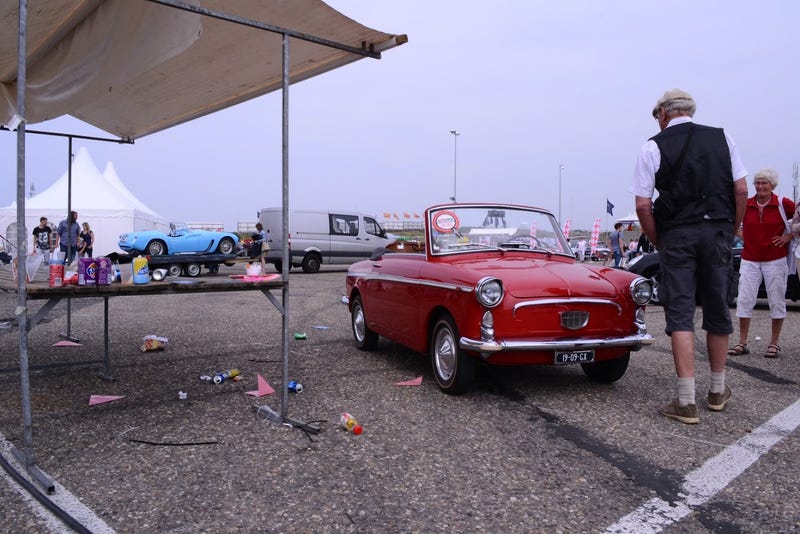 Italia a Zandvoort. An event where you find 60 year old Fiats parked next to the latest Lamborghini. Where the track is occupied by F1 cars for it to, only seconds later, be filled with about 250 Vespas.

As we arrived, the Dutch Ferrari Owners Club just went out on track for their first outing.
Their secretary had passed away in the week before and as a tribute they had his son lead the first lap in his fathers car with 5 black Ferraris flying small black flags.
After they came in, the other cars were taking some fairly careful laps around the tracks and we decided to walk to a better spot to take pictures.
We found a nice spot just as some Coloni F1 cars driven by Jan Lammers and Arie Luyendyk (After who the final corner of the track is named) and a Ferrari F93A driven by the owner of all three cars.
Joining them at the end of the session was Jos Verstappen in his Minardi PS03.
And then some Vespas.. You know.. Just because? Even stranger was that it wasn't even a classis vespa only thing. Most of the Vespas out on track where run of the mill ones you can buy right now.
One really great moment was when they let a ton of kids in karts drive around the track (following the Vespas) to promote some karting venue and the sport in general. Must have been a great moment for all of them.
After some really quick laps from Max Verstappen in the Torro Rosso STR7..
On came a weird mix of race spec Ferraris, a Lambo and 2 F3 cars.
And as some light rain started to come down the track got a bit too slippery for some.
Time for the father and son demo of Jos and Max verstappen.
It took some time to get going due to some technical difficulties on the Minardi Jos was supposed to be driving and forced him to switch over to an older Minardi PS02 he had never driven before. Both out on full rain tyres, even though the track had dried up a lot.
Get ready for a mixed bag of cars again. Fiat 500s, Lamborghini Diablos and Giulias all out on the track at the same time.
After that it was back to the Ferrari Owners Club again. This time pushing slightly harder.
The final cars on track we caught was a real mixed bag again. Ranging from old men driving the crap out of Fiat 500s to a race prepped Ferrari 360
As we had to leave, we took a quick stroll around the paddock to check out the parked cars there. A lot of them had already started to leave but there was still some very interesting stuff out there.
An Autobianchi for instance, with in the background a Moretti 1200 on a trailer.
Parked right across from this lot:
Right across from..
And finally some Máté-bait.
All in all a very interesting day with lots of unique cars. But also a very, very weird lineup.