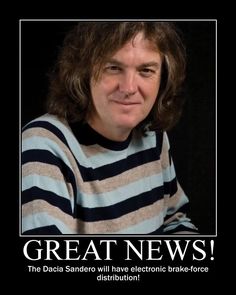 Ok, so the cancellation (possible relocation?) of TGUSA notwithstanding, I actually think it's a great time to be a Top Gear fan. I watched the series-ending Extra Gear last night, and I thought it was great. The part at the end where the hosts (all but Evans, importantly) sat together, talked somewhat off-script, jabbed and poked fun at each other... it was highly encouraging!

I thought Rory Reid was great at being enthusiastic without going overboard, and giving some honest comments which I do believe were his true opinions. He also just looks like he's having the time of his life. Harris is hilarious; he's also a lunatic behind the wheel and really fun to watch. Sabine is sooooo much better off-script, and I love that she and Harris are both legit drivers. Matt LeBlanc is also better off-script, and has a great sense of humor and a totally different perspective on car culture from the rest of them, being an American. By the way it was great to see Sabine taking jabs at Matt for being "a fat American," too.
I think if they can sort out how to deal with the fact that there are still too many hosts, this group could produce some fantastic content.
But wait! There's more! For those of us who loved the old formula of Clarkson, Hammond, May, we get to watch them again soon on their new show! Maybe if we call in the next 15 minutes they'll give TGUS, free! Just pay shipping and handling and $20m in production costs.

TL/DR: TGUK looks to be moving in the right direction, and C/H/M are doing a new show at the same time. TGUS might be resuscitated, we don't know yet. Still, great news for viewers!