Two days ago I discovered an epic craigslist ad. For the longest time I have been wanting an old Honda CBXXX to just bomb around town and have a blast with. Well two days ago I found a beautiful looking one listed for $3000.
(These pictures are from the Craigslist ad) I nonchalantly sent the seller a text saying "Awesome bike! I don't have the cash laying around to buy it but GLWS!" The response I got turned into a conversation resulting in the seller saying "I'd actually sell it for $1000."
I immediately put my current bike up for sale to offset all the money that will end up going towards the CB and scheduled a test ride for two days later. I wasn't planning this and I still had work I wanted to do on my current bike e.g. the next day I made a new exhaust system yesterday (see video above of the sound). I also have bigger jets on the way to rejet the bike but I already have potential buyers. Hmm...
So when I show up for the test ride I'm greeting with this AMAZING paint that looks like it's straight out of a 1970s games show aaaaaaand all the problems a bike develops when it sits in a garage for years; it doesn't run.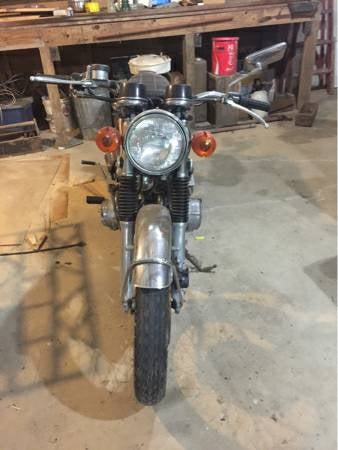 I was able to go through the whole bike, found out why it doesn't run, and discovered aaaaaall of the other issues this bike has. It has a lot of issues. It's going to cost money. But remember that awesome paint?
I did actually manage to get the engine to run for a split second and oh my god. I love the sound the old CBs produce.
The seller and I settled on $500 and I'll have the bike tomorrow. It needs plenty of love but I can't wait to bomb around on this. My current bike (1986 Honda VT700C, btw) may be sold tomorrow morning. I will certainly miss that bike. I suppose this is one of those bitter sweet moments. I'm losing one child to gain another.