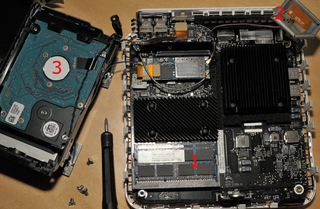 Data recovery/restoration is complete, and I managed to save probably 97-98% of my data, with the missing bits being mostly OS files that were restored during OS reinstallation. I got lucky and have learned my lesson and will do regular backups from now on. It used to be that drive space was always at a premium, and dedicating 500GB to backing up was too much space to 'lose', but drives have become so cheap these days that I have more than I can possibly use. On Friday I picked up two DVRs for 1.5TB of space, and on Thursday I found three notebook drives of 250, 500 and 750GB. The 500 appears to be dead, but the other two seem to work fine. Then there were the Craigslist finds...
Whilst picking up a $25 3TB drive, the seller mentioned that he also had a 240GB Intel 335 SSD for sale. The price was quite reasonable, so I popped for it and installed it in the old Mac mini. Nice. Like the installation of El Capitan did previously, the installation of the SSD has breathed new life into this ancient (late 2009) computer. Everything is just so speedy. There's a minor lag as I'm typing this that I don't remember experiencing previously, so I'll have to look into that, but otherwise this thing seems fast enough to be my primary desktop again. I did reformat the 500GB drive I used previously and installed that in place of the optical drive, but now I'll have to find a way to connect the 1.5TB drive that I did have connected to that port in years past. No big deal, just one more little task to get around to.
I can't imagine what the performance will be like when I replace this C2D machine with a newer model equipped with an i5 or i7...