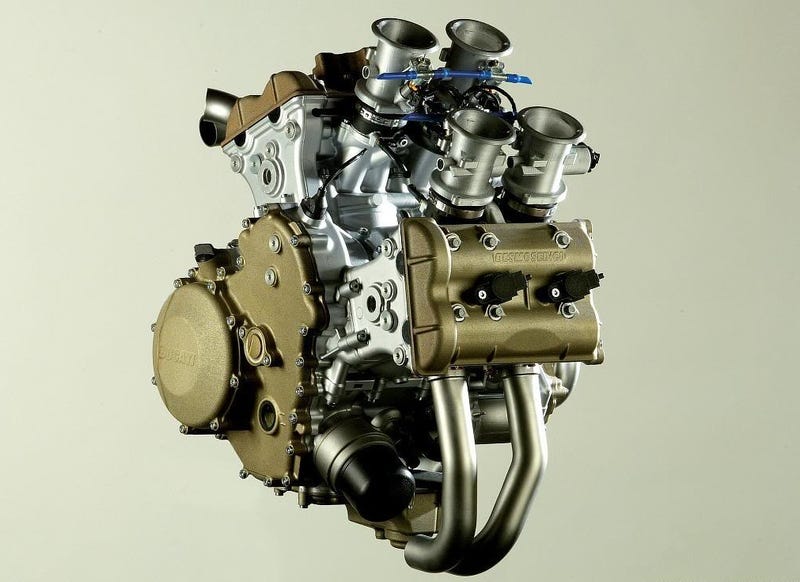 So.. word is Ducati is about to anger the purists of the brand.

Much like Porsche *was* known for its air-cooled 911's; Ducati is known for their 2-cylinder L-twin motors..... But they're about to change it up and go to a V4 derived from their MotoGP bikes.....
So yeah.. expect next year's Panigale R to be sporting, rather than a 1200 cc L-twin, a 1000 cc V4. And considering the 'older' 1200 cc motor is rated at over 200 HP, god knows what the V4 will be capable of................
Also! Look at this Superleggera I was checking out the other day!! One of only 500 made. And one of only a handful that will make it to North America.
Dry weight of 340 Lbs, 215 horsepower (225 with the "track kit") and a cool, cool price tag of $75,000.... Cuz carbon fiber and titanium coming from Italy aren't cheap!

Neat Ducati fact- if you look at my pic of it, the "red" is closer to a weird orange. (you can see the difference in the colors vis a vis the Panigale R, painted in traditional Duc red, behind the Superleggera).
Apparently Ducati paints all their race bikes this orange color, because once it's broadcast on TV screens, this orange shows up as the traditional Ducati red..... Whereas a bike in the tradtional Duc red will appear as a too dark maroon.......