Warning: Giant wall of text ahead, probably full of many typos as I am the world's worst at proofreading my own writing.

(Names have been adjusted for the usual reasons.)
So yesterday I finally got back in the saddle as a purchasing consultant. I used to do it on the side during college just to make a little scratch, though at that time I was mostly just consulting for computers and electronics, as I didn't know as much about cars those days.
A few of my current friends knew about me consulting in college and also knew my general reputation as a car guy. Earlier this week, one of those friends contacted me asking if she could hire me as a consultant to help her and her boyfriend buy a car for her with her tax return money. He drove a 2012 Honda Fit that he'd received as a graduation gift before they'd met, but sharing a car was difficult when they worked in different locations, as was her bumming rides from co-workers. I said sure and we scheduled a time to get together for a consultation interview.
A couple days later we all met for lunch and went over all of the pertinent information, requirements, and preferences. I asked about their budget, their preferences, things they didn't want, etc. Eventually we narrowed it down to a 4 -door car (sedan, hatchback, or wagon were all fine), van, or small crossover (she has a five-year old son), with reliability, safety, and practicality ruling out any cosmetic stuff. Also, she's just recently gotten her license, so nothing big, as she is still quite the anxious driver...at 23. Oh. And their cumulative budget? $4,000 for everything, including the car (cash, no financing), any needed repairs and maintenance, paperwork, and the first insurance payment.
After all I got all the information I needed, we discussed payment options. Generally in college, I offered three options: a total flat fee regardless of time taken, an hourly rate plus a small researching fee, or a percentage of total savings, with an increase in percentage amount for every day after the first that I needed to physically escort them to a location.
Since they were cash-strapped as is, we all decided on the last option, with me giving them the 'Friends and Family' 50% discount, plus lunch and dinner for the days spent together. After that was decided, we parted ways and I began my research, checking out craigslist, the local IWANNA, and local used car dealerships. I can assume you guys, since you're reading this on this particular site, know what sort of vehicles I singled out and which ones I omitted. My tabs were filled with 90's Toyotas, Volvos, Hondas, Mazdas, Subarus, etc., and I pretty much brushed past anything made in America during the 90's, anything made in Germany, and any KIA or Hyundai more than 6 years old.
Obviously, most of the cars within the budget weren't that new anyway. Still, that didn't stop Silas, the boyfriend, from sending me random link after link of cars he thought were secret gold-finds, with me constantly having to explain why this wasn't the case. He seemed to be especially obsessed with 2007 Suzuki Forenzas for under 3 grand, despite my explanations of common reliability issues with that particular car, not to mention the fact that the company left America altogether.
Finally, I just to tell him outright "Silas, any car that new, for that price, is probably that price for a reason- and not a good reason." His reply? "I just don't want Britanny to have to...settle." "Silas," I said, "No offense, but the hard truth is that the budget you guys have pretty much means she's going to have to settle in some regard or another. Now, my job is to make sure that how much she has to settle is minimized. You're paying me to mine for a diamond in the rough, which I promise you I will do. But you know the thing about diamonds in the rough that nobody tells you? They're in the rough. They're unpolished and uncut. They're not pretty, but they're still diamonds nonetheless and will stand the test of time just as well as a beautiful jewelry-store piece." Finally he got the point and left me to continue my research and searching.
By the time Saturday came, we had compiled a list of about half a dozen cars in the area to go check out, as well as a couple local used car lots run by people I knew to be trustworthy and honest, but don't have the most up-to-date websites or posts in the paper.
We met around 10am and got started. I actually had left one of the '07 Suzuki Forenza's on the list, one with about 110,000 miles, as it was close by, in the budget, and I felt it would help Silas' conscience to at least check one out. So I made it our first stop. First issue? It had to be jumped. And the power door locks didn't wors in the back. And then came the transmission- the most common issue with many such cars. It shifted rough, with obvious shifting, and required a hearty 'thack!' to get it back into park. That was enough to get Silas off the Forenza Train.
(BTW, I'm not saying that all Suzuki Forenza's are crap. I'm just saying that if it's under $4k and only 6 years old, it's probably got some major issues)
The rest of the morning was spent on a 1997 Honda Accord with 217,000 miles and stickered at $3,900 that looked great and recently been serviced, including a new timing chain, tires, and an alignment. At initial inspection, it honestly looked like our day might end quickly and easily, if I could get the price down. However, upon the switchpoint of the test-drive where I swap seats and let the client drive as well as take time to test out all the lights, electrical systems, and interior knick-knacks, as well as have a more leisurely look at the rest of the car, we discovered a host of electrical issues (left headlight wasn't even hooked up and looked like it had been ripped out of the wiring harness, one window wouldn't roll down, power locks didn't work, windshield washers were broken, headlight brights would only flash, not stay on), as well as the fact that while the A/C worked, the heater didn't work at all. Other than that, it drove great, haha.
Britanny really liked how it drove, as well, but had to admit that while it was mechanically sound, it as rife with electrical issues and definitely overpriced, at least before negotiations. Still, we decided to see how the used car lot owner handled it. We got back and I went to talk to the guy running the lot. I explained the issues we had discovered and he acted predictably surprised.
I let him know that obviously the price was too high, even without the issues, and that my clients would not pay anything close to that much. He asked what price they'd feel comfortable with. I told him that he could either fix the problems and sell it for $2,700 or he could let it go for $2,000 and we would fix the problems ourselves.
Obviously I low-balled him, expecting him to come back with the usual compromise somewhere in the middle, probably offering to sell it for $2,800 or so without the repairs. Instead, we told me that he'd either sell the car for $3,300 without the repairs, or make the repairs and sell it for $3,600, "plus tax, tag, title, and lot fees on either". I thanked him for his time and we left without even a counter-offer. We had more cars to look at and if that's how this guy did business, the car would still be there if we couldn't find anything else.
Before looking at more cars, we stopped for lunch and discussed the budget. I re-explained the fact that pretty much any car in this price range is going to need to need certain maintenance items no matter what, unless the seller could prove they'd recently done the work already. Typical things, like brakes, alignment, fluid-flushes, sometimes tires, etc. So we had to keep that mind. Then having to account for insurance, we had to knock off an immediate $200 off the top end, just to make sure that could be covered. So while the Honda could technically be in their budget at his offer, after insurance it would leave them next to nothing in the event something went awry with the car afterwards. They understood.
The next few cars went by pretty quickly. The best of the bunch at that the point had been a '99 Volvo V70 was comfortably within budget, drove well, not electrical issues, looked clean, and checked all the right boxes. However, when we did the mid-way swap-over and I poked around again without having a lot guy looking over my shoulder, I noticed the engine didn't sound so healthy after anything over low revs. I went around and checked the exhaust. It smelled somewhat sweet. Uh-oh.
I had Britanny rev the engine. Black spots appeared on the hand I had positioned at the end of the pipe. Oil. Checked the dipstick and it was dirty with bubbles in it. I explained to them that the interior seals on the engine looked to be shot and not only was it blowing oil, it also looked to be getting coolant into the oil, which implied, at the very least, head gasket and ring seals. Britanny asked if that was cheap to fix. "On a Volvo? More than this car costs." She was sad. She'd really liked the little wagon.
1996 Mazda Protege had dry rot on every possible bit of rubber on the car. Hoses, belts, tires, seals, weather-stripping, etc. It also had an uneven idle. Neither of these things had been mentioned in the ad or by the seller when I called. The 1997 Camry had mold and mildew under all the floormats and seats, as well as smelling of mildew when the A/C was on. The 2000 Civic had been sold earlier that day. The 1999 Honda Odyssey's transmission slipped like a drunk supermodel in stilettos trying to tapdance on a hockey rink.
The 2001 Subaru Legacy Outback had the tell-tale signs of a headgasket issues. Apparently it had happened very recently, as it only had 140,000 miles and when I brought it to the attention of the salesperson, he went into the shop and I immediately heard a shout from within along the lines of "Sonofabitch! It couldn't wait until we sold it!?' We left at that point.
At one point, we passed a mid-nineties Saturn SL2 for sale for $2,000. Silas asked about it. I just laughed and told them to keep on driving. Britanny knew my history with Saturns and just giggled.
By this time, it was getting late and I told them we may have time to look at one or two more cars before the lots closed and that we may need to spend the next day working on some of the craigslist listing that were in my 'Backup' sideboard, haha. I decided to head over to a nearby lot that was run by guys who I knew were trustworthy and would work with you and wouldn't rip you off. Of course, they also wouldn't stop you from ripping yourself off, lol.
We pulled in and walked up to the salesperson who was walking out to meet us. I told him that I was acting as consultant for Britanny and Silas and that they were looking to pay cash for something reliable, with 4 doors, in the realm of about $2,500. He said they didn't have anything quite that low. I asked if they had anything in their wholesale or auction lot. He gave me a knowing look and replied with a laugh, "We call those 'Manager's Specials.'"
I followed him, and Britanny and Silas followed me. The first car I caught sight of was a mid-90's Buick with badly faded paint and bald tires. I began to turn around, but then I saw Gene, our bespectacled salesman, keep walking past the Buick to a green and brown two-toned 1998 Subaru Forester S. It looked surprisingly clean, but obviously hadn't been prepped or detailed yet. He mentioned they'd just gotten it in on trade from a lady who bought a used Prius.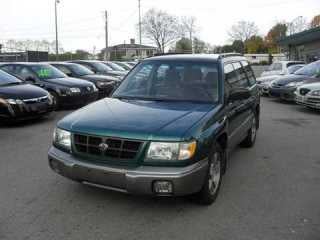 SEXPAND
(Note: Not the actual Forester in question, but functionally identical.)
He said it'd been through inspection the day before and was waiting for the detailed. He showed me the shop papers, saying it had passed with no major mechanical issues, citing only an odometer discrepency, which was also noted on the title, according to Gene, as well as needing an alignment. I asked to see the keys and any previous service records. He replied that he'd be back with the keys, but they didn't have any service records. While he was getting the keys, I talked with Britanny and Silas. She thought it looked cute, but worried that it might be a little big. I assured her that it shrinks once you drive it, as it drives very much like a car, just with more ground clearance and a higher seating position. Silas worried over the lack of service records, as would become his theme for the evening.
We snickered at the Jesus Fish on the back and noted that the headlights were new, as well as some minor dents, dings, and scratches on the body. The tires had about 50% tread remaining and were worn somewhat unevenly, but not severely so, which lined up with needing an alignment. Once Gene brought out the keys, we began poking in earnest. The rotors were good, though the brake pads were getting thin. Suspesnion components all seemed fine, save for a little typical surface rust. No body rust. The engine bay looked clear of rust, oil, or other assorted fluids. Rubber belts, bushings, sleeves, and hoses looked good and had no signs of dry-rot. Wiring seemed to all be in good order. The interior was well-worn, but had no rips, tears, stains, or evidence of smoking. The manual seat controls all worked, as did all the lights, both exterior and interior. The gauge cluster all worked great, save for the odometer reading 4,400 miles. Even the compass and heated seats all worked.
Everything seemed to be in perfect working order, electrical- whoop, there was only one working speaker. Upon closer inspection, I noticed aftermarket wiring for a subwoofer in the cargo area, as well as a jumper wired in for it. Apparently they had taken the subwoofer out before trading it in, but left the really nice aftermarket Kenwood head unit. Go figure. Silas said it was no big deal, as he could get a good set of speakers for cheap. While exploring some more, I noticed the owner's manual and warranty service booklet were still in the glovebox. I look inside the booklet while Silas, Gene, and Britanny all checked around the exterior and the cargo area (brand new spare tire and full complement of factory tire-change tools).
Inside the booklet was a massive stack of service receipts from 1997 all the way up to 2 months ago, as well as a service checklist. The previous owner had really taken care of this car. Timing belt had been changed at 90,000 miles and at 183,000 miles. Regular oil changes, tire rotations, new brake booster, belts, sensors, headlights and wiring harness, etc. After getting a good look, I tucked everything back into the booklet and placed the booklet and manual back into the glovebox, underneath the napkins and random stuff as I had found it. I decided to not mention this to Gene.
Finally, after deciding the interior and exterior and electrical systems checked out, I had Britanny crank the engine up while I kept an eye and ear on the engine bay. The engine cranked right up (Silas quipped about it being slow. I explained to him that a couple rotations is hardly slow to crank up). Everything looked and sounded good. No knocking or ticking, nor any visible drips or leaks. The belts didn't squeal or slap, nor did the engine torque-twist (it had a new engine mount installed 2 years prior) more than normal upon being started up and revved. Walking around to the exhaust, I found no particulates are abnormal smells, along with no smoke either.
All in all, it seemed surprisingly well put-together. So, accordingly, I asked Gene what the price was. He said they were asking $3,775, plus tax, tags, and fees. I immediately said that was too much. He said to take it for a test drive first, then we could come back and discuss finding an agreeable price. I asked to see the Carfax. He hesitated a bit, so I added that we'd need to see it before taking it for a test drive and stepping inside. He obliged. Gene really was a nice salesperson. He didn't smother us and when I was crawling all over the car, he just stayed back and entertained Britanny and Silas. He was also from upstate New York, so he was more familiar with Subarus than the typical southern car salesman. Still, he was surprised to learn why the Boxer engine was named as such when I explained how it worked to Silas and Britanny.
Gene shortly returned with the Carfax...and the manager. I wasn't surprised by this either. It's fairly common for a manager to come out to greet customers if they seem either likely to buy or likely to walk, cash-in-hand. Everyone made their introductions and Gene explained that I was acting as consultant for Britanny and Silas and I was handling the bulk of everything on their behalf. The manager had no problem with this and actually seemed quite happy to have someone mechanically inclined and knowledgeable about the car looking at it. He explained that Carfaxes cost money and he just wanted to assure us know that he would not lose a sale due to price (everybody says this) and that he welcomed us to take as long a drive as needed, but we had to be escorted by Gene.
I said that was fine, as it's normal for anything above a mom-and-pop car lot. As for the Carfax...all good news. No accidents, no incidents or damage reports, no failed inspections, and 3 owners, one of which was a small car lot in N.C. in 2007. Mileage? 207,000 in 2012. The 2013 registration renewal noted an odomoter reset, meaning the actual mileage was probably about 211,000 miles. Not bad, in my book. Mileage per year was a little on the high end for the first half of the car's life, but declined after the most recently owner bought it in 2008.
Then I noticed that the car started life in New York. I promply walked over to the Forester and knelt down and started looking underneath every inch of it, knocking and tapping. Not only did it have no signs of rust, but it had apparently been rust-coated either by the original factory or the first owner. The only rust was the usual surface rust on the exhaust and springs. Relieved that floor pans or rocket panels weren't going to fall off, I handed Gene my driver's license, as did Britanny and Silas, so we could test drive it.
The test drive went well. It was a healthy mix of city, highway, and curvy backroad driving, with a nice straight-away for a brake test, a steep hill to check the handbrake, and a few opportunities to check power and merging speed. The air-conditioning and heat worked great and the car drove fine, though it was apparent the suspension bits were all original, but that was hardly unexpected. It did pull a little do the left, but we already knew it needed an alignment. Steering was fine, though typically vague at on-center as is common for Foresters of that era. Power steering seemed fine and the pump never bogged down or whined. Turning circle was hardly impressive, but was still better than average for a vehicle the size of a Forester.
Britanny spent the entire ride fiddling with everything within reach (I encouraged her to do so), while Gene and Silas talked in the back. I fielded the occasional question, and made the occasional comment about the Forester and the drive, but other than that I paid every ounce of attention to how the Forester felt and sounded. We eventually discovered a few minor things like a vent having a broken plastic divider and a few other equally harmless inconveniences. I later told Silas that these parts were cheap and easy to replace, especially if you got them from a Pull-a-Part yard.
When we stopped for the driver swap with Britanny, I checked all the lights and fog lights again and they still all worked just fine. I checked again for any sign of drips or leaks and came up with nothing. So far so good. I even had everyone inside rock back and forth so I could listen to the suspension from outside with the engine off. This greatly amused the three of them and let me confirm that the suspension was old, but not in need of repair.
On the drive back, I let Gene ride shotgun while Britanny drove. I sat in the back and answered questions from Silas while looking up information on market values for 1998 Forester S' on my phone. On average, the market value for a fairly clean Forester S with similar mileage, options, and trim seemed to be around $3,000 for retail or $1,800 for private-party. Even lower on K.B.B., but then again K.B.B. is rarely worth paying attention to when it comes to market values. As for the private sale value, Foresters are pretty rare down South, so I wasn't expecting to find one for sale via private party. Either way, I at least had an idea of where we needed to be to not get hosed, as well as how much lower in price to shoot for.
Britanny remarked that it was bigger than she was used to and she was a little nervous. I explained that she was just a new driver and that the Forester was a small vehicle for its class and that it would feel less over-sized the more she drove it. Other than that, she liked it, though she had the typical new-driver issue with parking straight. Luckily, she discovered the boon of extra ground clearance when she pulled too far forward and just bumped a tire on the curb instead of scraping the bumper to hell and back.
After parking, I asked Gene to let me talk to Silas and Britanny alone. He obliged gracefully and stepped inside. I consulted with them and came upon the conclusion that she liked it, but she didn't like the price. I told her I'd take care of that. Silas worried over the lack of service records. I told him not to worry, I'd seen enough evidence of it being well-maintained by the previous owners. I asked if they wanted to step inside and talk price. Silas asked if this was a good car. I told him that if it were my own money, this'd be the one I'd lay it down for. He asked if it was the best we could do. I answered him honestly, explaining that no, it wasn't. Somewhere out there, there was probably a better car for a better price. But our chances of finding it were pretty slim. I told them that Gene and the manager didn't really seem to realize it, but that seemed to have the proverbial diamond in the rough on their hands.
They agreed to step in and see if we could get the price down. Inside Gene's office, I did the talking. I told Gene that we liked the car, but the price was obviously too high. I asked him flat-out what they could do on it. He replied that he didn't know, but he could find out. I asked him to do so, knowing what was coming next. He pulled out a piece of paper and wrote down the vehicle details on it, as well as Britanny's names, and wrote "Contingent upon the condition that we can come to an agreeable price, we are ready and willing to purchase this vehicle today".
Every dealership has some form or another of this form and they always want you to sign it at some point during negotiations. Gene starting out with it out of the gate was just a filtering technique, testing our mettle and making sure we weren't window-shoppers who would be intimated away at the first sight of a piece of paper with a place for a signature on it.
Silas and Britanny, of course, were exactly that: intimidated and hesitant. I explained that the form was in no way binding and that we always had the right to walk away if we couldn't get to a price that we liked. Gene didn't say anything. Wise man, that Gene. With the usual trepidation she signed it and Gene walked away after confirming that, if they decided to buy, they'd be paying with cash or debit.
While he was away, I talked with Britanny on price, since it was her money and potentially her car. I asked her what price she would feel happy to pay, what price she would feel comfortable paying, and how much she'd be willing to pay if we couldn't find anything else. She paused to call her aunt and explained the situation. After a quick dialogue with said aunt, who apparently did as I had earlier and looked up the market values, Britanny told me the prices she was okay with: $2,000, $2,500, and $3,000, respectively.
I explained that the typical market value at a car lot for a Forester like this one was about $3,000, which was in line with what her aunt had told her. She seemed a bit disappointed, but nodded her head and accepted this fact. I assured her I'd do my best to make sure she paid less than that. Right on cue, Gene walked in with a written offer of $3,080 out the door, taxes, paperwork, title, and lot fees included. I admitted to myself that this was a very fair offer, but didn't vocalize it. Silas asked why such a specific number and Britanny just looked resigned. Gene told Silas he didn't know, it's just the number the manager gave as what they could afford to sell it for and it was probably so specific because it was very close to invoice. I took this with many pounds of salt and gave Silas a look that hopefully conveyed that he should do the same.
At this point I resumed talking to Gene and explained that the private sale value was well over a thousand less than that and we were willing to hit up craigslist to save a thousand bucks. He countered with how clean the vehicle's condition was. I reminded him that he didn't have any service records from before it was traded in, nor could he tell me the service history of the vehicle. For all we knew, we'd have to immediately pay for a timing belt or new transmissioned. This made Silas and Britanny so visibly nervous I almost laughed. I told him that it obviously needed an alignment, along with a brake job, oil change, and full fluid flush (as would nearly any vehicle in this budget range), which would easily run us at least a couple hundred dollars. Silas and Britanny began to look even more nervous.
Gene asked flat out what we were willing to pay for the car. I told him that we'd take $2700 for it out the door, including the alignment, fluids, oil chance, brakes, and a full tank of gas. Or we could pay $2,500 out the door and we'd take care of those maintenance items ourselves. At this point he looked doubtful, but amended the Intent to Purchase form and asked Britanny to sign it. She looked to me for direction. I nodded and waved her to go ahead and sign it. Gene excused himself and said he'd see what he could do.
While Gene-less, I explained that we weren't likely to get either asking price, but they'd probably meet us in the middle and would then stone-wall, at which point we could gamble and move to walk out if Britanny didn't like the price presented. I asked her again that, in the off-chance that they could meet one of the prices I told him, would she be comfortable buying it? Silas again interjected about service history and again I assured him I wasn't concerned about the reliability, that I was just busting Gene's balls. Britanny and Silas agreed on the price-reaction plan and we waited.
After a couple of minutes more, Gene walked in and extended his hand to Britanny, congratulating her on her new car. I was used to this, as I'd done it myself all the time when I'd been the one selling the car, but Britanny and Silas looked downright panicked and confused. I asked Gene what price. He said not to worry about the maintenance and that his manager would do $2,500 out the door, but that was the absolute bottom line. I looked to Britanny. She looked surprised and gave me a small smile. I told Gene that so long as it was indeed $2,500 out the door and we could have that in writing, it was a deal. Everyone smiled and shook hands.
I'll skip the paperwork, as that's all boring and identical at nearly every dealership. I'll just sum it up by saying that 30 minutes later, Britanny was the proud new owner of a surprisingly clean 1998 Subaru Forester S and had saved $1,300 in the process, before my consulting fee of $97.50, which they were nice enough to round up to an even $100. Gene and his manager were so impressed with me that they asked me for my contact information and said that from then on, if I ever referred someone to them, or had a client that bought from them, I'd make $100 per paying customer.
I thanked them and pulled Gene off to the side and said to him, "You're welcome. I pretty much did half of your job for you, haha." He laughed and agreed that I had indeed made it job easier, though I'd severely busted his balls on the price. I told him that was my job, but I sincerely hoped he'd made a little money off the deal, as I understood they had a business to run. He laughed and said it wasn't much profit at all, but yeah, it hadn't been a loss.
After all hands were shook and smiles were smiled and parting remarks were spoke, we all headed back to our cars and decided on grabbing some dinner as a surprisingly tasty-yet-affordable Chinese buffet down the road. After all, my terms included lunch and dinner. Before heading inside, we all hung around outside in the parking lot to grab a quick smoke and discuss the transaction and overall experience, as well as whether or not they were satisfied with my work. They agreed that yes, they were very satisfied and felt that I'd done a really good job and had no qualms with paying me my share of the savings. Britanny herself was ecstatic about the Forester, but Silas voiced that he was still concerned about the reliability (he's one of those who are easily scared off by mileage over 100,000) and service history.
At this point I reached into the glovebox of the Forester and grabbed the service booklet and handed it to him. I told him I'd taken a look inside it before the test-drive. He opened it up, and upon leafing through the receipts and checklists, he just started laughing. He asked why I hadn't brought it up with them. I told him that it was my ace in the hole for negotiations and that I didn't want to risk either of them slipping up and letting Gene or the Manger know that the vehicle had in fact been very thoroughly maintained. "After all, what's the use of sharing bullets when I'm the one stepping up to duel? Besides, it's their fault for not looking harder in the glove box." They just laughed and agreed.
After dinner they paid me my share, thanked me again, and said that they'd definitely refer anyone in need of help buying a car my way. As stressful as the day had been, I feel everything ended well. I made $100 for spending a Saturday shopping around for cars and they got into a safe, reliable, practical vehicle that would be dependable in any weather, with over $1,000 left over for preventative maintenance and pocket money. All in all, I'd say it was a job well done. Now if only Automatch had a need for a partner in the Southeast, haha.
TL;DR: A friend and her boyfriend hired me to help them buy a safe, reliable vehicle for a family of three with a budget of only $4,000, including insurance, repairs, preventative maintenance, etc. After a few days of researching and a Saturday of hands-on test-drives and discussions, I was able to get them into a really clean and well-maintained 1998 Subaru Forester for $2,500 out the door and I made a hundred bucks for my efforts.