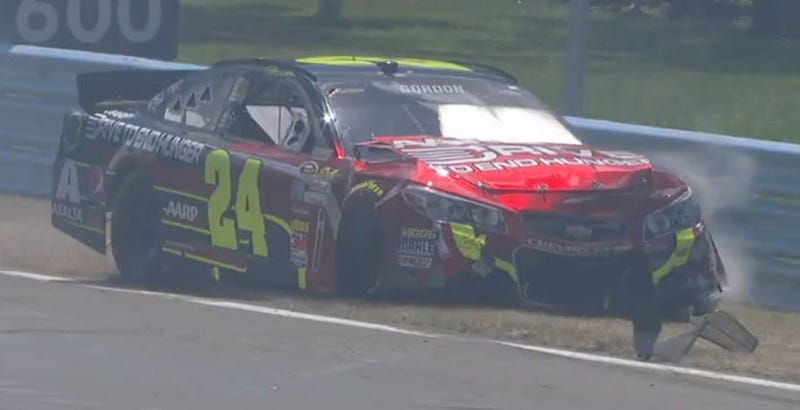 (Full Disclosure: I've been a northeast NASCAR fan my entire life, I grew up with #24 being THE guy behind the wheel. I know y'all love him and I do too. But I love NASCAR more than any one driver, so save your "Gordon is God!" and "Truex Sucks!" and "Screw Logano!" comments. You can post them, but don't expect me to care.)
I was ok with it. I got over it. I was ready to forgive NASCAR and get excited about the race this weekend, and then they did this. Jeff Gordon is back in the Chase, as the 13th driver. This should be surprising to you, this shouldn't make sense to you, it certainly doesn't make sense to me. The evidence that Gordon got screwed is circumstantial at best, you can argue that Bowyer spinning "screwed" Newman and Gordon but they had their shot on the restart just like Truex did. Newman had a horrible pit, you know what? Forget Newman, I know none of you care about Newman anyways. Gordon had his shot during the restart, he had to pass one car (#56) and he's in. Regardless of Logano getting the benefit of Vickers pitting, Gordon had one job to do: Pass Truex and get in the Chase. Let's not even get into the 25 races before Richmond where Gordon could have performed better, let's not forget his miscue at Watkins Glen 13 laps into the race, let's not forget that he crashed into Bowyer last year for exactly the same reason that Bowyer spun. I think Gordon is one of the best NASCAR drivers ever, but forgive me if I don't bow down to his altar. I watch NASCAR because for some awful reason I still think it's some of the best racing in the world, not because a particular driver is winning.

Regardless, after NASCAR made the boneheaded decisions to fine Michael Waltrip Racing and remove an innocent party from the Chase, I fumed for a bit and then got over it. Hell by Wednesday I was positively excited to watch the weekend's race because while the commentators on Jalopnik might not like the Chase format, it does make for compelling racing. Do I think it is necessary? Yes, if only because it helps stave off complacency. And then I get a NASCAR alert on my phone and thinking it was probably some new signing or ancillary news article, I checked it not at all ready to read what I read: Gordon's in as the 13th entrant.
Last time I checked, the Chase for the Sprint Cup has 10 drivers and 2 wildcards for a total of 12 cars. Did I miss something? Did I miss the clause where NASCAR can add another car to the field, because it's the right thing to do? Oh that's right! We now have to make all of decisions not based on rules, but rather the moral high ground that a decision elicits! Makes tons of sense doesn't it? Because Gordon was leading the race and a lap car intentionally crashed into him right? Because the actions of Vickers and Bowyer eliminated Gordon from Chase contention right? He still had a job to do, 5 laps, 1 car.
I'm not salty about this for any personal reasons, I'm salty because this is a microcosm of society in the year 2013. You know what? People are going to lose races, life isn't fair and sometimes cheaters are the ones who prosper. I'm not opposed to giving every 5 year old in a t-ball league a participation trophy because they're 5, but these are grown men paid an extremely large amount of money to play what we can effectively boil down to a child's game. And now the hall monitors and lunch aides are starting to act like concerned soccer moms too.
NASCAR can claim this protects the "integrity" of the sport all they want, but in essence they're violating, binding, gagging, and throwing the "integrity" of the sport in the trunk of a car and tossing it in the East River. This is akin to the people who see an asshat parking job and think that they are morally right to vandalize it (hint: you're not). NASCAR changing their rules on a whim is just spitting in the faces of fans who actually like NASCAR as a sport, and not just an excuse to drink beer and cheer for a brightly painted car. How am I supposed to tell someone that NASCAR is something they should be watching when they start pulling this? It's bad enough trying to explain that you like NASCAR and aren't from the deep south, now you have to justify it while including that "oh yeah, they change rules from time to time...but it is still a great league!" Thanks NASCAR, it took me 20+ years to come out of my stock car closet and now I have to jump right back in for fear of persecution.
So I hope everything cheering for Gordon is happy, your whining paid off. Your constant bitching (Jeff Gordon too!) during the week pressured NASCAR into making a completely knee jerk reaction that once again sets an extremely dangerous precedent that will probably bite the sport in the ass in the coming years. Either that or NASCAR has apparently gained some enhanced version of hindsight that I don't know about because concluding that had the antics not occurred Gordon would have definitely been in the Chase is about as definitive as stating that if Mark Sanchez didn't buttfumble, Tim Tebow would have sprouted wings and ascended to heaven.
Good Job #24, you really earned this one.