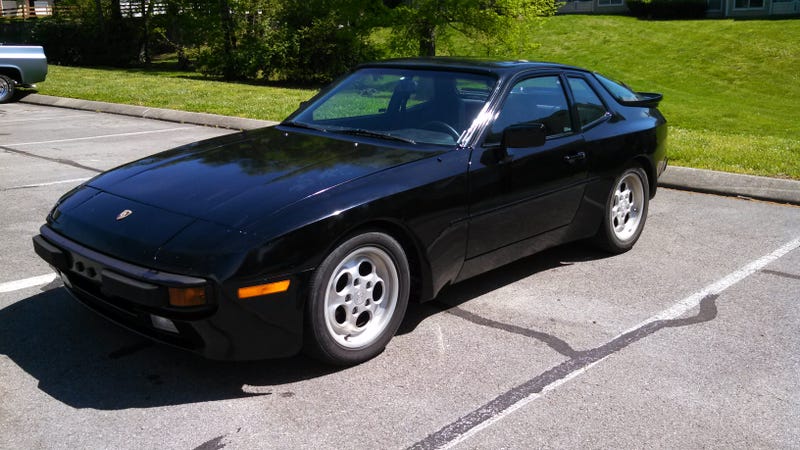 She and I have had a good run. But I just don't feel worthy of her anymore. The Fiesta ST is taking all my time and attention. I knew this was going to happen. It's an amazing car, but it's showing its age and I think it's time for me to move on. Or rather, I think it's time she found someone that's able to give her the attention she deserves.
It's a 1985/1 Porsche 944, naturally aspirated. Roughly 150 hp. 5 speed manual. Cracked dash, ratty shifter boot, hatch doesn't open (think of it like a German Corvette C3), paint is chipping, AC needs a recharge, 16in fronts, 17in rears phone dials, 924 S2 gauges, odo doesn't work, tach/speedo/fuel DO....
It rotates like the best, corners like mad, and handles like a dream. I've kept handwritten service notes and mileage tracking. 160,000ish miles on it (probably), ~8,000 of which are mine. And I do have a carfax.
She may look like she just rolled off the showroom floor, and she may not be the most comfortable or practical, but for a weekend drive, it's perfect. I'm thinking $4800 would be reasonable, but I've got room to work.
If anyone here is interested in it, I'd love to see it go to someone I trust to give it a good home. And that would be Oppo. I'm considering listing it on Craigslist and getting it out there by word of mouth from my mechanic. But I thought of you lot first. If anyone's interested, here it is.
If anyone wishes to discuss this further, or if you have questions, please shoot me an email.
cmgrissom21 at gmail dot com