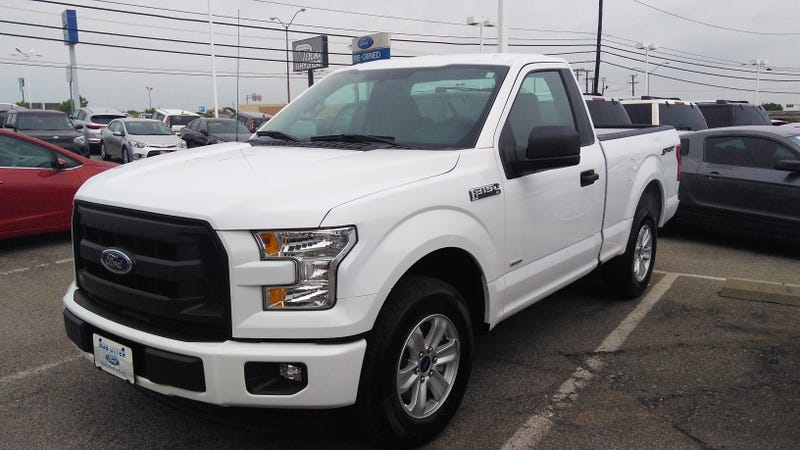 Well Oppo, I've gone and done a thing. I purchased a new 2017 F-150. Sport package, 2wd, 2.7l ecoboost, 6spd auto, 3.73 gears with the electric locking rear end, tow package, all the usual power accessories, ect... I always thought my first aluminum bodied vehicle with a twin-turbo V-6 would be something very different, but it turned out to be pickup truck. Go figure.
FAQ:
What will it do?
This will become my daily driver along with being the tool that gets the boat to the lake and (most importantly) gets the racecar to the track.
Why?
I've made the decision that I'm going to play with the racecar again. Knowing full well what it costs in both time and money to play with the racecar, I realized that I was going to have to make some changes to the fleet to make it happen. Playing with an old racecar, that is transported on a rusty ass old trailer, being towed with an old GMT400 Escalade and daily driving a very nice but also very old corvette just wasn't going to happen. At some point, I would run out of time, energy and/or money trying to sustain that maintenance and repair effort over the long term. The reality is that playing racecar probably means driving a tow vehicle to work (which is what I did the first time around and never once though that trade off wasn't worthwhile), and my old Escalade is not that vehicle over the long term.
This configuration?
The initial plan had me kicking around the idea of picking a slightly used F-150 ecoboost, but then I realized how expensive they are in any kind of non-work truck configuration. With my tow vehicle being a lightly loaded commuter most of the time and weekend tow vehicle when needed, an lightweight aluminum bodied truck with a small displacement turbo engine starts to make a lot of sense. When I took a hard look at what I really needed out of truck and what would be the smallest, lightest and cheapest thing that does what I need it to do, this was the answer I came up with. Because I don't need a backseat, and I don't care to pay for fancy new, I began to realize that new just might be an option (and it would mean I could get exactly what I wanted).
I didn't know you were in Sherman, TX?
I'm not. Being me, I came up with something very, very specific that I wanted. It turned out that a sport package regular cab, short bed, 2wd, short locking rear end, full tow package and integrated trailer brake controller is NOT a common configuration at all. With tall gears there were suitable trucks out there, but I wasn't in the market for a truck with a 3.15 or 3.33 gears. It turns out that my local dealers were not overly enthusiastic about ordering an odd little configuration, and there were a couple of trucks close to what I wanted West of the Mississippi. This truck turned out the be both the closest to what I would've orderd, the closest geographically and the cheapest. I learned that Ford's rebates and incentives vary significantly by region. This truck had 3k more in incentives than it would in the El Paso area, and the dealer seemed to want to sell this truck on top of that. While I would have ordered a different color (looking at you, Lightning Blue), this was a good enough deal to be worth buying a plane ticket to DFW and driving back to El Paso. I wasn't really planning to do the great car exchange of 2017 quite so soon, but everything fell into place for this to happen.
What is it like buying a car long distance?
It was, by far, the best and easiest car transaction I have ever had. Also, Tom McParland was right. Email is a fantastic way to negotiate over a car. It is certainly way more fun than doing so in person. You can respond to an offer, respond latter to an offer or ignore them all together as you fancy. I contacted their internet manger and worked from there negotiating out the door price with an itemized breakdown of everything. Over a couple of days we came to an agreement on all terms (price, travel, ect..) and then the finance guy called me. I cut him off 10 seconds into his pitch to point out that I would not be financing through them, nor would I be purchasing any accessories, extras, warranties or service contracts of any kind. He then prepared the paper work to reflect the exact numbers negotiated on.
Once that was hammered out, I called my bank and got a loan for the difference after my down payment. It has been a long time since I had a car loan of any kind, but it turns out being an middle-aged adult with really good credit makes getting a loan a lot easier than when I was younger. I used State Farm Bank, and the process works through my local insurance agent. After unfreezing all my credit reports, I called them up and had a loan in about five minutes. The conversation was only very slightly more complicated than "Hi, I would like to borrow some money." They responded with basically "Sure. How much money would you like to borrow?" Then on Thursday afternoon, I took off work a bit early and stopped by my local agent's office. I signed the papers and in about 15 minuets I had bank draft made out to the dealer and an insurance policy on the new truck. Later on Thursday night, it was slightly weird to realize that I had a loan against and an insurance policy on a vehicle I had never actually seen in person.
On Friday morning I got a ride to the El Paso airport and got selected to be felt up by a TSA agent who lacked a sense of humor. Once I was done being publicly molested, I boarded an American Airlines 737 to Dallas where the dealership's driver picked me up on 2017 Subaru Legacy and took me about 60 miles North to Sherman. Once at the dealership, the process was so smooth and fast that I still can't fully believe it happened.
We pulled up and I was met by the Sales Rep the internet manager handed the final transaction off to. The truck was waiting out front, and he asked if I wanted to drive it. I declined the test drive, but spent a couple of minutes going over the interior and exterior ensuring that nothing was out of sorts or damaged. We then went inside to the finance guy's office. As promised (and to my surprise) he actually did have everything ready to go and prepared exactly per the agreement and exactly as the advanced copies I had him send me. I signed the purchase order, registration paperwork and odometer disclosure statement and then gave him my check for the down payment, the bank draft for the remainder and the insurance binder. He then gave me the keys and my copies of the documents. The sales guy asked if I wanted any demonstrations of features on the truck or help setting anything up, which I politely declined. I then tipped the driver who picked my up from DFW, and then got in my truck and drove to the the rib restaurant across the street for lunch. I was literally at the dealership for less than 15 minuets.
How was the drive back?
I drove first to Dallas and spent the night eating BBQ and drinking quality beer at variety of breweries with one of my best friends who happens to be a brewer and manager at one of Dallas's bigger new breweries. After a hearty breakfast at the Gold Rush Cafe the next morning, I set out for Abilene. Another friend of mine is a very talented Blues musician who now lives on the family land in Eula, TX. I spent an afternoon and evening Bluesing it up and drinking with him and a friend of his. I got up Sunday morning and drove back to El Paso a very happy camper.
How is the truck?
In short, fantastic. I really like it, and it should work very well for what I'm going to do with it. Ford makes a nice truck, and that little ecoboost motor is no joke. Between the motor, my truck's short gears and its just over 4,000lbs curb weight, it down right boogies. Acceleration is very much similar to my LT1/6 speed corvette. When not driving into a 20-40mph sustained head wind, highway fuel economy is in the low 20's with a brand new motor and exposed pickup bed (17-18mpg into the head wind). It should do nicely, and I fully believe Jalopnik's previous 5.7 second 0-60 test of a 2.7l ecoboost F-150 in a considerably heavier configuration than mine.
What about the rest of my fleet?
My parents are actually going to buy my old escalade and use it as their very occasional towing, inclement weather and hauling stuff/big objects vehicle. It will replace their not nearly as nice 94 Dakota (5.2l, extended cab, 4X4, slt, 2 owner, 196k but everything works including the A/C). They've got that for sale if any oppos are looking for an ugly, but useful old Dakota in the Abq area. Once I get the escalade up to them and settled, I'll be listing the corvette for sale. If any oppos are looking for a nice LT1/ 6 speed C4, I've got one for sale. I've also got a pending sale to a friend on my rusty old trailer that will be replaced with a new one.
Turbos are fun, and they gave me a reason to go visit some folks I dearly miss seeing on a daily basis. I also learned that doing almost every part of the transaction in advance makes buying a car from a dealership a lot more fun.