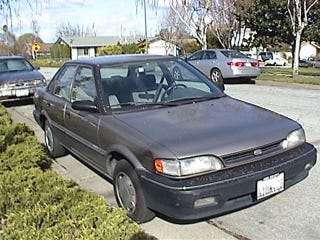 That's the only way I can explain my commute this morning. I saw an absolutely MINT condition 1990 Geo Prizm waiting at an intersection. Soon after, I ended up stuck waiting at a single lane work zone, and the Prizm was right behind me.

It's the cleanest one I've seen in probably 15 years (certainly better than the Prizm I found last fall). That includes our (identical) old one, which was traded in sometime in 2001. (Interesting note; the Prizm was traded in on a Passat, which was traded in on the Forester.)
I also saw that Pontiac Phoenix again...