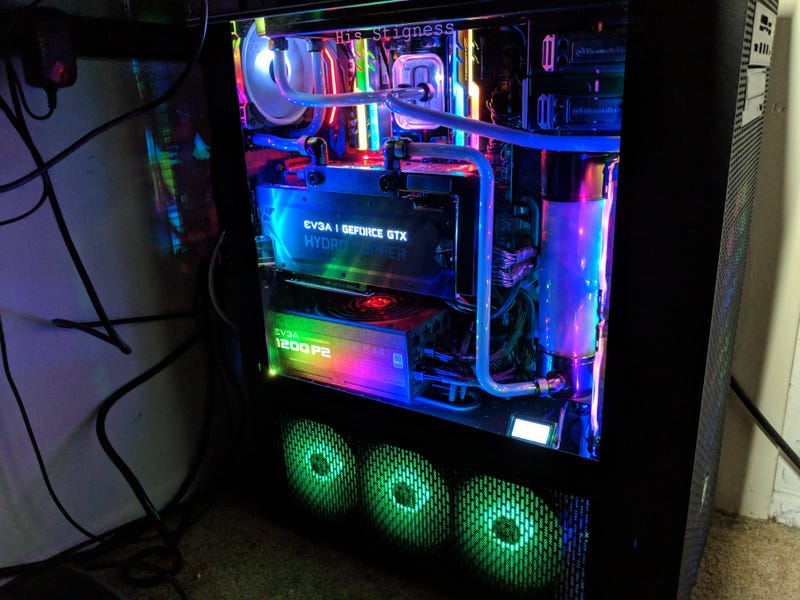 Four months after I started buying and getting parts I am finally done with my new computer! This was my first custom computer build, and it's my first time doing a custom water loop. I'm quite pleased with myself. But that might be because I haven't added up how much I spent.

I think those of you who build computers will understand why I don't want to add up my total. My build is stuffed into a Thermaltake X71 Tempered Glass case:

Threadripper 1950x

Gigabyte X399 Aurous Gaming 7
EVGA GTX 1080 Ti Hydrocopper
32gb of G Skill Trident Z RGA 3600mhz RAM
PSU is an EVGA SuperNOVA 1200 P2, 80+ PLATINUM 1200W
My spare GPU is a Gigabyte GTX 1060 3gb.
I have two Samsung UH750 28" 4k monitors.
Those are flanked by an AOC 27" 1920x1080 IPS LED monitor.
And above those are two Dell 24" 1200p LED monitors.
I have 5.1 surround sound via Logitech Z906 speakers.
My keyboard is a Logitech OG910 Orion Spark RGB Mechanical Gaming board.
That's accompanied by a Logitech G903 wireless RGB mouse.
And that's on my Logitech G Powerplay wireless charging mousepad.
And lastly, for hardware, I have an LG 16x Blu-Ray reader/writer.
The cooling loop deserves its own list.

For the sake of brevity, all of the radiators are Alphacool. Yes, I said all.
All of the fittings are also Alphacool.
The first radiator that's fed by my EKWB D5 pump is a 360x45mm radiator.
That goes to a 240x30mm radiator which feeds the XSPC TR4 water block.
The outlet for the CPU block goes to another 360x45mm radiator.
That radiator feeds a 140x30mm radiator, which in turns goes into the:
EVGA GTX 1080 Ti Hydrocopper water block.
And then that drains back into the 250mm Eisbecher reservoir.
And the fluid is Primochill Vue in the same color Jay used for his Threadripper build. I did that by accident. I really wanted, and still, want to get white or silver Vue fluid.

Fans:
The bottom radiator is cooled by three non-PWM Corsair HD120 RGB fans. On the other side of the case, I modified the perforated cover and stuck three Noctua NF-F12 iPPC 3000 PWM fans.
The 240mm radiator is cooled by FIVE Corsair HD140 RGB fans.
The top 360mm radiator is fed by three more Noctua NF-F12 iPPC 3000 PWM fans.
And the 140mm radiator is fed by a lonely Corsair LL120 RGB.
LEDs:
Besides the ones in the fans I have four Corsair LED Node Pro led strips in the case, and I'm going to add four more strips behind the monitors to create some cool effects.
And a little about my room. I emptied out my closet and got a desk that fit perfectly in it. My chair is an AK Racing Onyx Deluxe chair which is pretty nice.
And my "Server Room" included my modem, my Asus VPN router, and my Unifi AP. I also have my Philips Hue Bridge there. And the crowning jewel is my Synology DS1817+ which currently has 52tb of raw storage potential. And behind me is my 64" Samsung plasma. Around my room is 7.1 surround sound sent from my Denon receiver. I have an Xbox 360, PS3, and PS4, but I mainly use my new Nvidia Shield.
So there you have it Oppo: I've built what I'd imagine is a pretty intense computer. It's no SLI monster, but I think one 1080 Ti will be sufficient. And I will probably get a new Nvidia Turing card whenever they come out.
Enjoy.