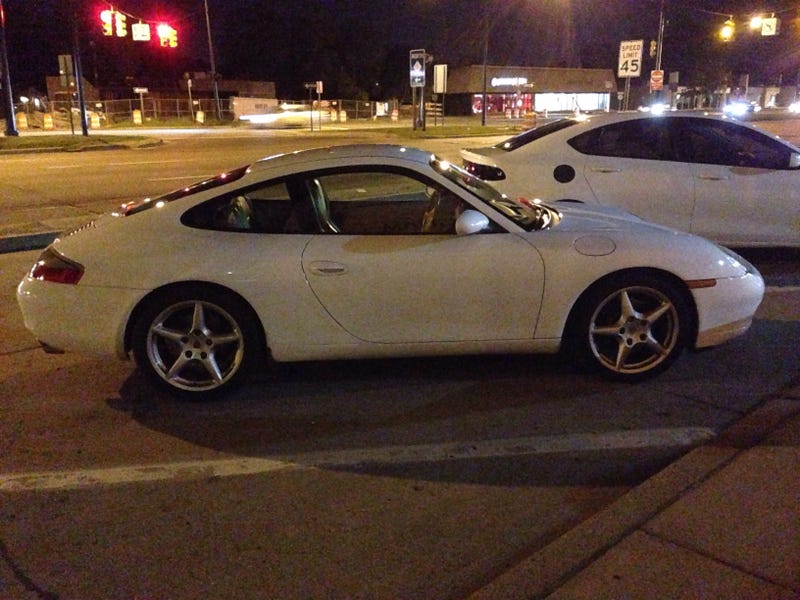 My "top secret" car plan for the next year or two is working out quite well so far, and they just got better since I found this sexy beauty last night!
I met this very nice guy, who owns this '99 996 Carrera with the infamous 3.4L F6 that was known to crack cylinder heads and have IMS issues(as all non-turbo 996 and '05-08 997s do). This is what I consider the best year 996 for a few reasons:
1. The dual-row IMS is considered to be the most reliable of all the IMS cars
2. It's the last year of almost all mechanical 911s, last year with throttle by wire driving
3. They're the "least desirable" which means lower prices for me! ;)
He bought his 996 with around 136k miles for $8500, the best damn price I've ever heard for these cars. Then his cylinder heads cracked, and as a result, he spent about $4k to partially rebuilt the motor, and that includes the IMS. He spotted me because of my 944 and offered a ride.
We talked for a while, and he's got and had quite the collection of cars; featuring many S14s, 240s and a Corvette. He's planning on using the 996 as a track day car, but he told me he doesn't hold on to cars for too long, so he said he'd sell the car for $12k when he's ready to sell it in a couple years. Conveniently enough, I plan on selling the ST within the next year.
My response: "Give me a year, and I'll have that car". Now that I'm working every day now and starting my second job in a week, putting more hours in both. Come next summer, if it's still here, I will have that car whatever it takes dammit!! (O_o)
*cue the Live to Win year-long montage*