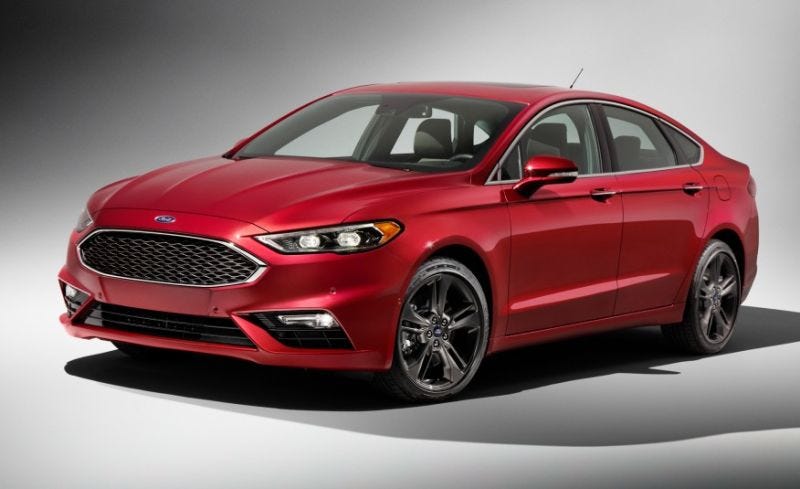 My first thought when seeing the car was "Finally, a Fusion with a god damn V6 again!!". But when I saw that it was auto only, I knew there would be a big problem; but not the one you're thinking.
It's about time Ford had a sporty mid-size sedan that hopefully is AWD and outperforms and outsells the SHO. And I have much faith in the 2.7 V6 that will have tuners raving and going insane. The transmission on the other hand, I think will be the cars biggest failing.
Why? If you're thinking because "it's not a manual" that's not it by a long shot. I didn't think it would come with a manual ever again and I don't think any strongly written letters to Dearborn will change that.
Recall that for about a month last summer, I had a 2015 Fusion SE with the 1.5 I4. Now, I never reviewed it or gave my opinions of it, but if there was one glaring negative I could give about it, it was the transmission: the 6F gearbox. There's no doubt in my mind that Ford will be reusing this box in the new Sport, and that's where the problem lays. Even if by some means it's a variation of it, it won't be good, from an enthusiasts standpoint. Let me explain.
In my month of driving the Fusion, I found that the 6F wouldn't let me manually shift when I wanted to, nor would it let me downshift when I wanted, I suppose to "protect" the motor or something along those lines. The manual shifts were also incredibly slow and not fun. When allowing the car to shift itself, when wanting to drive spiritedly, it didn't know when it wanted to shift nor did it want to stay in the gear I prefer it did. It simply isn't a fun gearbox to have fun with; daily drive and commute, maybe, but not enthusiastically. The gearbox gave me no genuine control over the driving experience whatsoever.
Now, I've driven a Challenger Scat Pack with the lovely ZF 8-speed, and that in my opinion is the best automatic on the market today for daily driving and spirited driving. It gives you full control when you want it, and no control when you dont want control. It shifts like nothing I've ever been in and it's a hoot.
If the new Fusion sport doesn't have an automatic that's similar to the aforementioned one, or the 6F is left as is and isn't electronically updated or whatever they do to engage the sportiness of a transmission, well....I don't know. I'm very excited about the new model and I hope it does well, I just hope the transmission knows how to have fun!
Also, I'm digging the four-eyed look. Bring it to the Mustang so I can imagine a new four-eyed Fox Stang throwback, thanks.