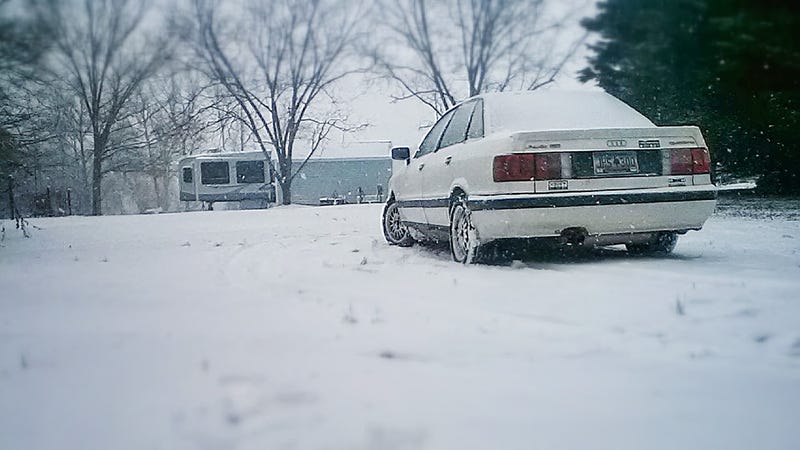 As some of you may know, I recently purchased a pair of Whiteline 14mm camber bolts for my 1991 Audi 80 quattro (pictured above). Before I originally ordered the bolts, I contacted Whiteline to verify that the ones listed on the website did in fact fit my exact model. I was assured that they would.

They did not.

Instead of explaining what happened after that, I've decided to copy over the e-mail back-and-forth between myself and that same Whiteline representative over the course of the next week, starting with my initial email to confirm fitment. Names and personal information have been changed because...internet reasons. Yeah.:
07-13-2014, Me to Whiteline:

Orginal Enquiry: Hi. I was looking at the part #KCA414, the 14mm camber bolt for the Type 89 Audi 80 1991-1993. My question is my 1991 Audi 80 is a B3-chassis, but the 80/90 quattros transitioned to the B4 chassis in late 1991 and early 1992. I just want to confirm that this camber adjustment bolt will work with my car. Also, is there a similar type of camber adjustment kit or bolt for the rear suspension? Admittedly, the front suspension needs negative camber way more than the rear, but I was just curious about the rear. Thank you.

Make: AUDI

Model: 80, 90 & QUATTRO

Series: 80, 90 & QUATTRO B3 (TYP 89)

07-14-2014, Whiteline to me:

[Desu],

Thank you for your inquiry!

The KCA414 will work for your vehicle.

We have no other camber solutions for the rear, as the car has a provision for camber adjustment from the factory.

Let me know if you have any other questions, and thank you for your continued support of the Whiteline brand!

Best Regards,

[Sarah]

Technical Support & Training Services

07-20-2014, Me to Whiteline:

[Sarah],

I received my package of KCA414 bolts very promptly, which was wonderful, and I immediately set out to install them in the upper strut clevis as instructed. However, the provided camber bolts did not fit. The threads fit and are appropriate, but both the adjustment lobe and the washer tab are far too large to fit. Is there something I am missing? The diameter of the strut clevis hole is just barely large enough for the threads of the bolt to fit, but as per the instructions, the lobe needs to be inside the strut housing as well as the hub housing, which are sized to fit the threads of the bolt, and the washer tab needs to fit within the clevis hole itself. Apart from drilling out both the strut clevis AND the hub pass-through, I see no way for these to fit. Has there potentially been some misunderstanding?

07-21-2014, Whiteline to me:

[Desu],

My deepest apologies for the inconvenience.

We have a set of 12mm bolts that I can send out today to replace the 14mm set you have. I'll be checking with product management today to follow up on the online listing.

If you can please send over your current mailing address, we can get the replacement bolts sent out today.

Again, my apologies for the inconvenience, and please let us know if you need anything else.

Best Regards,

[Sarah]

Technical Support & Training Services

07-21-2014, Me to Whiteline:

[Sarah],

My address is 305 [I Hear Banjos rd, Somewhere in the Deep South]. Thank you for being so prompt in your reply. After I emailed you I went on the website and tried to look into the 10mm's, which are apparently no longer available. I also looked for the 12mm's and saw they were not listed as compatible with my car, but if they do in fact fit I will be sure to tell you, so that you may adjust your product listings and avoid any further confusion in the future. My only further question right now is this: I am getting my car aligned today, as I just installed new tie-rods. I was obviously hoping on getting it aligned with the camber bolts installed. I'm going to go ahead and get the alignment, as the tie-rods are already installed, but I what am wondering is whether I'll be able to install the camber bolts after the fact and increase negative camber without affecting the toe settings of the alignment I receive, or is it recommended I have the car aligned after installing the camber bolts?

07-21-2014, Whiteline to me:

[Desu],

Unfortunately the best thing to do is to get the alignment after you install the camber bolts. Toe is always the last adjustment taken, as all other adjustments(camber, caster) affect the toe setting.

I'll get the camber bolt shipped out today.

Let me know if you need anything else

Best Regards,

[Sarah]

Technical Support & Training Services

07-21-2014, Me to Whiteline:

[Sarah],

Well then it's a good thing I'm getting the 1-year alignment package that lets me get additional alignments at no charge for a year, haha. I'd planned on doing that anyway since I'm going to be installing new shocks and springs in September, so it's not a major issue.

07-21-2014, Whiteline to me:

[Desu],

I have been wanting to try one of those 1-year or lifetime alignments at one of the shops out here for my daily. I think Firestone shops have them. Let me know how yours works out!

If you are going to be installing new shocks and springs soon, would you be willing to install some control arm bushings as well?

Best Regards,

[Sarah]

07-21-2014, Me to Whiteline:

[Sarah],

Control arm bushings? If they fit. ;-P

Just kidding! I know you're not personally in control of the product listings. This is nowhere near as bad as another, very well-reputed, site sending me tie rods for an Audi 200 and insisting they're for my 80 until I sent them photos showing theirs beside the ones from my own car, haha. Them? I'll never do business with again. You guys? So far I'm perfectly pleased with the experience I've had- after all, mistakes happen. In all seriousness, though, it depends on how finances are looking as to whether I'd also get bushings. The shocks and springs are going to cost me close to $800 already, not to mention renting a spring compressor. Ideally, I would LIKE to replace all of the bushings, but it all depends on whether I have another $120 to spare for the control arm and sway bar bushings.

Either way, I'll be sure to let you know how the 1-year alignment package works out. I'm getting mine from Tire Kingdom, which I believe is a direct competitor to Firestone. I'm pretty sure having an alignment done today and then another done a week from now for the camber bolts will test out how well they live up to their word, lol.

07-21-2014, Whiteline to me:

[Desu],

Parts are on their way out to you, we sent them 2-day air via FedEx:

Tracking – [NUMBERS! NUMBERS EVERYWHERE!]

I put a little extra in there for your trouble. Let me know how the bolts work out.

FYI, we are having problems with our email server being down, so you may not receive this until far later.

Best Regards,

[Sarah]

Technical Support & Training Services

07-24-2014, Me to Whiteline:

[Sarah],

Sorry for the late reply. My schedule the past couple of days has been very hectic and even though the package arrived yesterday, I wasn't able to open it until today after work.

First of all, I have to say, I am beyond impressed with the professionalism and customer service experience I've received from Whiteline. You have gone above and beyond expectations for me and I cannot begin to express just how much of an impact it has made on my opinion of your company. You can rest assured I will give a very positive write-up of you for my car club's forum as well as readily recommend Whiteline to all of my other automotive enthusiast friends.

Even the 2-day air shipping was pleasantly surprising, but when you mentioned putting a little extra in there for my trouble, I assumed it was a few bumper stickers or something- not an entire set of the lower control arm bushings you and I discussed! When I picked up the package, I was confused and curious as to why it was so heavy for just a pair of 12mm camber bolts, but when I opened it I was utterly flabbergasted at your generosity. Thank you so much!

As for the 12mm bolts themselves, they fit like a glove and work flawlessly, so you can feel secure in adjusting the online listing for them. I don't know about the Type 89 B3 Audi 90 or the B3 Coupe, but for the B3 80 Quattro, it seems the 12mm are the proper fit. As for the 14mm bolts, I didn't see a separate return shipping label, so do I just ship them back to the return address on the box? I notice it's the same address as in your email signature.

As for the alignment, I'm going to take the car in first thing in the morning for the first of what should be my 1 year's worth of free alignments. Luckily, the guy they have doing the alignments is an auto enthusiast as well and understands my reasoning for asking for maximum negative camber. All he asked is I bring the instruction sheet for the camber bolts. I'll be sure to let you know how it works out!

Again, it has been an absolute pleasure working with you. My only regret is that Whiteline doesn't make more parts for my car, haha! I can assure you, however, that when I need to replace my front sway bar link bushings, I'll be getting the new ones from Whiteline. :-)
I sent that final email less than an hour ago, so I haven't received a reply yet, but as you can see, what could have turned into a long, drawn out, bitter battle of wills has resulted in a very positive experience for me and an extremely satisfied customer for Whiteline. As promised, I'm going to recommend them to all of you guys, as well as to my personal friends, and anyone I happen to strike up a conversation with at the next Cars & Coffee who mentions being in the market for some suspension parts. As for [Sarah], I'm going to look into contacting one of the higher-ups at Whiteline and laying down copious praise on her behalf, haha.