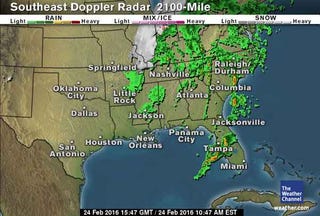 RALEIGH, NC: On Wednesday, WCPSS closed school three hours early due to the high chance of inclement weather affecting the surrounding area. Noted Raleigh area resident, and avid automotive enthusiast, Jack Does Cars was unaffected by the closure, due to a stomach related sickness.
WRAL shows that tornadoes, hail, fallen trees/power lines, intense wind, heavy rain, and a possible apocalypse are all affiliated with the storm, which has decided to make Raleigh it's home for some reason.
Mr. Cars was quoted saying, "Wow, on the ONE DAY, they cancel school early I'm not there to see it. C'mon guys. C'mon." Obviously upset with the actions taken by the Wake County Public School system (WCPSS), Cars backed up his prior statement with, "I'm gonna find this storm. And I'm gonna take 'er down."
The storm, which the writer shall call, "Randy," caused heavy damage to Mississippi, Louisiana, Alabama, and Florida, yesterday when it came through like CSX 8888. Tornadoes sprung up in the Gulf States, injuring many people and killing some. Nonetheless, the people of Raleigh, especially Jack Does Cars, are on high alert to make sure that trees do not fall on their precious vehicles. Such as a green, 2003 Chevrolet TrailBlazer with 164,000 miles, all for the low price of $3,500.