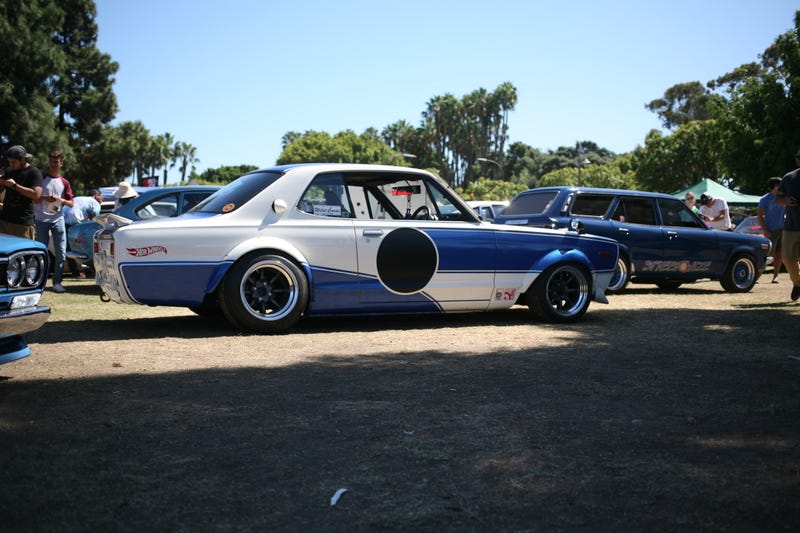 Dsscats here again, bringing you the REST of JCCS (You can find Part 1/2 here)! Lets start it off with this pair of amazing Hakos.
This blue suited this example quite well.
This SA RX7 was sweet. Great color too!
This FC Turbo II was ridiculously nice. The stance and RPF1s suited it very well.
Hi, Ace! Complete with spinning middle seats and smilies.
Wing much? Epic aero.
ITBs with such a modern valve cover was odd, in the same way that pretzels with ranch is odd. Seemingly unorthodox, but awesome.
Watch that Wankel, you wanker! Steel Wheel Appreciation Society FTW.
This Cosmo was just the best. Still somehow not as clean as Mike Malamut's amazing example.
I've never seen such a stock RX2 in my life. Pretty cool!
RX7 or RX4? I'd take the RX7, personally.
Such a strange and cool mashup of USDM and JDM styles. The clear tails were a very interesting touch (I like it!)
Stock 4 cylinder wasn't enough for you? V8 time! Check out those massive rear tires.
This Subaru 360 trucklet supposedly had 3600 original miles
The interior certainly suggested that to be correct.
Pretty sure this was my favorite car there.
There was a surprisingly good selection of Toyota 800s out, including 3 LHD examples and one RHD.
REPU!
Not only was it very simply modified on the outside...
...but it had mods where it counts too.
This half G-Nose'd 240Z was simple and clean. Perfect.
My friends Jocelyn and J were out there too with their original RHD Fairlady. Pretty awesome!
There were a few S12s out. This particular one had just perfect fitment, although the fender treatment was odd.
This example had an SR20DET swap.
Another picture of that Kaminari-kitted S130.
This green machine was just awesome.
Another shot of the Sprinter. I couldn't pass by it again.
Some more of IVI's cars.
This SR20-powered 510 was a true crowd pleaser. It seemed to always have a crowd around it.
SO STOCK!
Very daily drivable.
Brown Japanese cars FTW.
Another period correct center piece.
This Roadster was extremely well done.
The anti-Shiro?
At this point, it was time for everyone to leave. That didn't stop me from taking photographs!
Notice the Jimny in the background.
Like a Road-sir
RHD Bluebird COUPE! Has a much more slanted rear windshield than the US-market 2 door sedan.
At this point, Savant left in his RX3.
Sweet SA, esé
Out to chase the sun through Long Beach.
A nice pair of 80's 'Yotas
No idea how this Luv snuck in there. The Z31 looks confused too.
Another gorgeous AE86
RHD Datsun pickup. Notice the Z600 in the foreground.
These wheels and that stance just somehow...worked.
A sweet Hako sedan leaving.
Celi, you're a STAR!
Goodbye, Mr. McFly!
Another nice Shiro.
This Cosmo tried to smoke us all out!
That rotary life.
Finally, I helped load up cars for the Sage Auto Group. So nice.
Bye bye Shiro!
One last Hako leaving.
Finally, two shots of the cars I drove down and back. I took the 210 down and the 240Z w/ L28 back (Thanks Evan!)