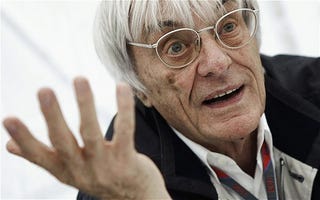 The always opinionated Bernie Ecclestone has spoken out about testing, engines, fuel savings etc. You know, typical Bernie stuff. I wonder how many motorhomes the FIA uses.
Look at the last few days. I said it was going to be like this … a total farce," he told the Daily Mail. "They [the FIA and the teams] insisted on these new engines. If they wanted to race like this they should go to Le Mans.

"They talk about saving fuel. They don't need these new engines to achieve that. They should get smaller motorhomes. Then they wouldn't need so many trucks going all round Europe. Mercedes are taking 23 trucks with them everywhere. If they really wanted to save fuel they should stop that.

"The whole thing with the new engines is totally absurd. People want noise - something special, that's what F1 is all about - and now we have quiet engines and nobody on the track."
Read more at ESPN F1