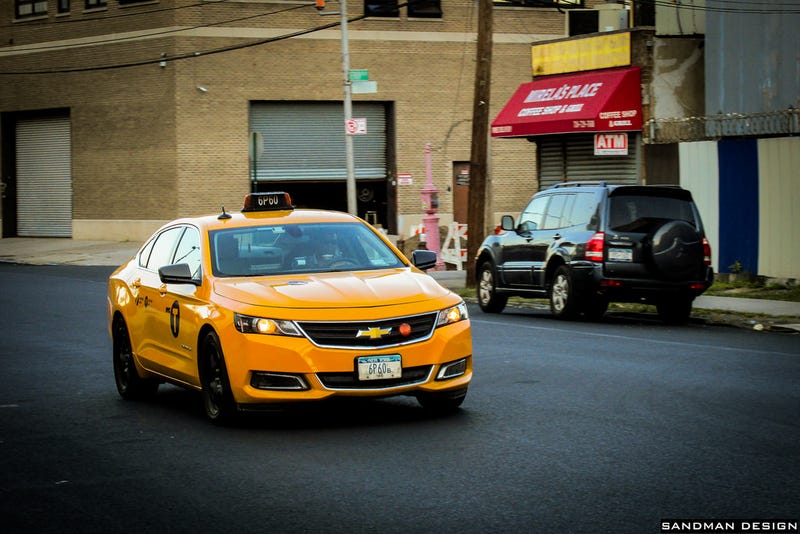 Taxi Of Tommorrow (Nissan Nv200)
+ Good legroom
+ Panoramic roof
- Not enough room for three regular sized people in the back. It was really tight.
- Harsh ride, the engine sounded like shit
- Tank like windows
- Ugly as hell
- Everything rattled and felt cheap
(Also, side note: About 80% of these things all have one steelie which is the spare tire.)
7/10
Ford C Max:
+ Not a Prius
- Theres no legroom
- The seats are uncomfortable and hard
+ Good quality ride
+ Enough room for three regular sized people in the back
Overall 6/10
2014 Impala (Like the one in the picture)
+ Great, nostalgic look. I can easily see these being the next Crown Vic in New York
+ Great rear legroom, I'm around six feet and there was more than enough room
+ Comfortable seats
- This particular example smelled like vomit and Indian food.
Overall 9/10
2013 Camry
+ Good legroom
+ Funky feeling backseat
- Shot suspension and something was wrong with the hybrid system
- Bad ride, hence bad suspension
Overall 7/10
2011 Crown Vic
+ Great rear legroom
+ Delicious V8 sounds
+ Iconic looks
Overall 11/10
Also, there's still a decent amount of Crown Vic cabs in New York, I'd say 1/4th or so.
PICTURE NOT MINE.