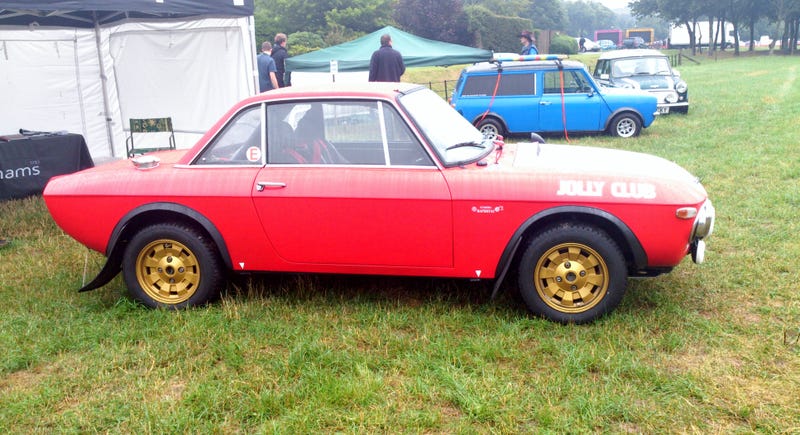 When I think, and I mean really think about all of the cars I've been fortunate enough to see at the motor shows, events, and festivals I've attended, it really is rather incredible. I've been up close to some of the most desirable cars ever produced. Out of all of those cars it's hard to pick one out and say 'that was my favourite', but I can say which ones suprised me or kept me around longer than I thought they would.
This is one of those cars; the Lancia Fulvia HF. In my experience at least, it is rare that you go to a motor show and a Fulvia won't be in attendance, there's almost always one there somewhere. It's usually placed well out of the way of the 'big guns' of the event, the 'show stoppers' no, it won't be found near those guys.
The first time I saw one is etched into my memory as if it was yesterday. Seeing one of these for the first time in the metal catches you out a bit. They look even better than they do in the pictures you've seen a thousand times before. So I froze, I thought, and I remained there taking it all in.
The Fulvia HF (standing for 'High Fidelity', an Italian racing club) is one of the most jaw-dropping cars I have ever come across, it is small yet perfectly formed. A car you take a full 360 degree walk around to truly appreciate just how good it looks from every conceivable angle. It's really very special indeed, but to get lost in the Fulvia HF's looks alone would be a mistake because she is much more than just a pretty face. She is one of those rare apparitions of which men desire more than any other. A deadly and desirable combination of both beauty and success.
Don't be fooled by Lancia's bad press regarding engineering and reliability, that came later on in their history. The Fulvia HF is regarded as an exceptionally well made car, and was manufactured to a very high standard back in the 1960's. As a result, it made for a fantastic rally car. Lancia's legendary rally success all began here with this beautiful little car.
Mechanically speaking what made it special? Well it was front-wheel drive for a start, and in the rally scene this was something a bit different. In this era many competitors were still going for rear-wheel drive and while the Fulvia HF failed to impress in a straight line, around the corners it was an absolute gem. It was light (around 900kg) and in full rally mode it would be producing over 150bhp from its Lancia V4 1.6l engine, so on any slightly slippery surfaces it tended to do pretty well. Where its competitors would struggle to put power down, the Fulvia HF's front-wheel drive layout would grip and take off, sending it to attack the next corner and so on and so forth.
After a period of successful racing across Europe through the end of the 60s and early 70s, Lancia won the first of its 11 World Rally Championships in 1972. The competition was then known as the International Championship for Manufacturers, and Lancia were taken to the title by its drivers; Simo Lampinen, Harry Källström, Sandro Munari, and Amilcare Ballestrieri. Munari won the prestigious Monte Carlo rally, Lampinen won in Morroco, and Ballestrieri won on home soil at the Rallye Sanremo.
With its achievements on the rally stages in mind, it is perhaps not unexpected that on the road the car was just as sweet to drive. The HF was introduced as the edgy, sporty version of the Fulvia range in 1965, and it was certainly made sportier. Lancia replaced the bonnet, the doors, and the boot lid with aluminium replacements, and that famous v4 Lancia engine was tuned to produce 88bhp. As time went by that V4 was increased in capacity and by the end of its run you could buy one for road use with around 130bhp, I imagine that was quite a car.
It's a special car with a very special history and even better, a car that is absolutely obtainable to collectors if you really want to get behind the wheel of one. Maintenance and up keep is affordable and crucially, buying the car in the first place doesn't cost the earth. You'll perhaps want to try and get the famous Fulvia HF 'Fanalone' Edition (Slang for 'Big Breasts', referencing the big lights fitted), so that will mean paying a bit more, but take a look at this beast in my native England over with the guys at Targa Florio Classics: http://www.targaflorioclassics.co.uk/72-lancia-fulv…. There are more than a few guys in the world with that kind of cash spare. If you have it, do yourself a favour and buy a Fulvia HF. You can thank me later.
Proportionally one of the most beautiful cars I have ever come across, a rally legend, and an enthusiasts dream, there really isn't much bad you can say about the Fulvia HF. It is one of my goals in life to be able to drive one of these before I pop my clogs, preferably around glorious Italy alongside the woman I love. What else can I say? It's easily one of the Best of Europe, and it makes me very sad indeed that modern day Lancia has fallen so far from the levels it was once keeping.