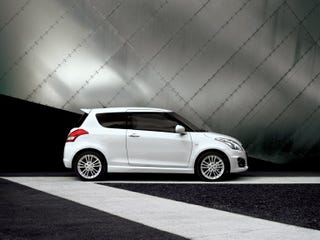 Ahhhh! Curveball! Caught you out on this one didn't I! Best of Europe with a Japanese manufacturer? OK, so you might think I'm cheating a little bit here, but 'Best of Europe' for me covers anything made here, or sold here but not sold in the USA. The Swift Sport is the latter of those two, and let me tell you; for the price you pay, this car is unbeatable. You need to know about this car.
I have to talk about the price right out of the gate. List price of this little Suzuki is £13,999 but with some negotiations you'll get it for much, much cheaper than that. What do you get for the money? Well, you've got a very light, and beautiful looking 'warm' hatchback. Don't get me wrong, this won't compete with the Renault Sport Clio I did a piece on yesterday, but it isn't supposed to. This car brings an old fashioned feel to the driving experience with its normally aspirated 1.6l petrol engine. It only produces 136bhp, but it only weighs in at 1045kg. Many of the motoring press in the UK compared this car to that holiest of all hot hatchbacks; the Peugeot 205 GTI. The general consensus was that it drove very similar to that car and brought back many happy memories of the old school style of hot hatches.
What do I think of it of then? Let's first take a look at the styling. This may well be the most beautiful of all super-minis on the market. The shape of the car is absolutely fantastic, I can't think of a better looking small car, I love it. The twin exhausts in the diffuser and the shape of the light clusters in particular are a highlight for me. Moving inside the car we have some very nice little touches for such a cheap car, red stitching and bucket seats make you feel very welcome indeed. It doesn't feel as cheap as it actually is, but you will find cheap plastics in some areas of course. This isn't a Volkswagen Golf. Equipment levels are fantastic for a car of this price too, automatic HID projector headlights with washers, electric folding door mirrors, Bluetooth, automatic air conditioning, traction control, keyless entry with a very cool start-stop button, and even digital radio. Suzuki really go wild with the equipment on this car and better still; there isn't an options list. You get this all for free.
You're probably thinking that the driving experience might be a little disappointing with a lower power figure than what we are used to in these modern times, but I say the same thing to everybody who talks to me about power. Power is just a figure, it's a number. What's more important is how a car makes you feel and how much fun it is to drive. Get out there and drive one for yourself if you can and make up your own mind. Don't be put off by the ridiculous sausage measuring contests going on all over the automotive world right now. Make up your own mind and judge each car as an individual upon your own tastes as a driver. For me, the engine was just right for the car, I love the normally aspirated engine. Revving high and taking it up to the red line and listening to what is actually a glorious exhaust note from this little car is an absolute laugh. Handling was absolutely superb, changing direction so quickly and inspiring more and more confidence within you with each corner you took on. It rode just right over the bumpy British back roads I'm blessed to have in my local area, it didn't feel too harsh but it remained planted and precise with whatever I made it do. Really, I can't recommend this car enough.
I think we're coming to a point in time now where value and fun is coming to the fore. This car is several years old now but I feel it's more relevant than ever. It's cheap to the point where you feel like a thief, packed full of equipment and infinitely fun to drive on the twisty roads. If you bought this car I really can't see how you could end up regretting it. That's why this Suzuki Swift Sport, despite it's Japanese heritage, is one of the very Best of Europe.