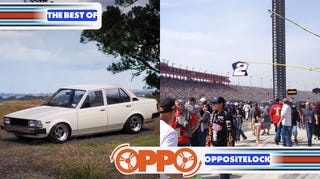 Assembled here are the best Oppositelock posts from Monday and Tuesday. Today we've got an SR20 powered DX, NASCAR from the pit box, driving an X3 at VIR and more.
JOYRIDE // 240hp '83 DX Corolla - RooWills
I recently made the switch to a German vehicle after owing a host of turbo-charged RWD Japanese coupes. While a lot of my 'car friends' didn't really understand the move, I have absolutely no regrets. My E34 540i is fast enough, handles pretty well and I still get excited when I jump in it after 12 months of ownership. It is also quiet, comfortable, luxurious, spacious and refined. This DX Corolla is none of those things…
---
Up Close and Personal at a NASCAR Race - It's a "Porch-uh"
I don't normally watch racing, or really sports in general. I like "doing" versus watching other people do stuff. That being said, I'm a motorsports guy and I plan on attending at least one event of every major racing series. I've checked off F1, MotoGP, and NHRA, and just this weekend was able to check off NASCAR.
---
I Drove a BMW X3 at VIR and It Was... Weird - Jake Thiewes
I'm not new to driving on racetracks. I'm not particularly new to BMWs, either. I've somehow owned six of them and they've all been pretty fun to drive, even while they were leaking/burning/telling me my headlights were out when they were not. And over the weekend, I got to toss two of my friends' BMWs around VIR's Main circuit — two that Hans and Franz likely didn't think would ever touch FIA curbing.
---
Why Bad Cars Happen To Good People - Automatch Tom
At least once a day, I see someone cruising around and I think, "Why did you buy that? You could have done so much better." Now I'm not talking about beige boxes like the Civic and Corolla. I don't think those are poor purchases; those cars make perfectly fine transportation modules for the majority of car buyers. And I'm not talking about people driving cheap beaters either. If you only have a few grand in your pocket and need a car ASAP, I understand grabbing the first thing that you can find that looks clean. I'm talking about new or relatively new vehicle purchases where the budget has allowed for plenty of good alternatives. I came up with some theories on how sub-par cars end up with their owners, usually these phenomena don't happen in isolation but rather in some combination.
---
Preparing for a race - t_s
"I've never raced at this track before, but I've spent a whole lot of time on it with my Playstation." A phrase often heard when rookie racers arrive at a track they don't know. So surely there's some value in the whole videogame racing story. Well it would appear so, just ask Jann Mardenborough. What about us mere mortals? Can we learn how to race on a few hundred dollars' worth of console? Well I can't and here's why…
---
The Bane of Benz: the Sportcoupé - Jagvar
In the late 1990s, Mercedes-Benz, known around the world as the producer of bespoke luxury cars, began to consider a move down-market in North America. The median age of American Mercedes-Benz owners at that time was 52, and the company hoped to attract younger buyers with a more affordable car. Its smallest passenger vehicle, the compact A-Class, was introduced to Europe in 1997 to mixed acclaim, but wasn't deemed suitable for the U.S. market.
---
Cars that time forgot - DeTomaso Longchamp - themanwithsauce
A lot of people remember Detomaso as the maker of mid engined, Ford V8 powered sports cars. But what most don't know is the pair of more......practical cars that were made alongside the Pantera in the 70s and 80s. The same basic platofrm was made into both a coupe/convertible and a sedan. Both cars were based heavily off of the Maserati Quattroporte chassis, but the coupe Longchamp used a shortened version of this chassis while the Deauville sedan used it with only minor modifications.
---
That Time Ford Made Broncos for the US Military - Garrett Davis
I have always had something of a love affair with the Ford Bronco. I've spent many a night scouring craigslist ads in search of the perfect one, while simultaneously trying to come up with reasons why buying one would be a responsible decision (haven't found one yet). Its first and final iterations are especially dear to my heart, especially given the *ahem* growing pains they went through in the between years. Something I didn't know about the Bronco, though, is that the US military ordered and deployed somewhere near 120 of these bad boys between 1965 and 1968.
---
My Track Day at Circuit of the Americas - slow4o
This past Friday I was able to cross an item off the bucket list: I got to spend a day driving the Circuit of the Americas. This event was put on by the BMWCCA, and was an all weekend affair that included an HPDE, time trials, club racing, and an autocross on Saturday. I signed up for the HPDE on Friday, and was placed in the blue run group, which was the lowest.
---
Dealers Can Fight It, But The Way We Buy Cars Is Changing - Blake Noble
I can walk into any electronics store and buy a new freakishly large super hi-def and razor-thin LED television set with super hi-def surround sound audio just as quick and painless as if I were buying new underwear. I can just grab what I want, throw down the paper or plastic and maybe sign a thing or two, and I'm out the door in less than fifteen minutes… I wish I could say purchasing a car from a dealership is as easy. But it simply isn't.
---
Rare Rotary Resurrection Rescue - The Story of my Mazda RX-7 FD - APiDAOnline
If you asked the Jay Lenos or Wayne Carinis of the world about barn finds, they'd likely say the era when you could find a relatively unmolested gem in someone's garage is long gone. While that may be true for a '30s era Duesenberg J, the time to find modern classics in strange places is just beginning. That's how I found this early 1993 Mazda RX-7 FD that had been sitting, untouched, for nearly a decade.
---
Born In Compton: Powell Sport Wagon - TheDailyTurismo
Compton, CA has been a manufacturing center long before Will.I.Am said he was going to build an automobile manufacturing company in the east Los Angeles hub city. The Powell brothers started in Compton building motor scooters but from 1954 to 1957 they crafted a vehicle called the Sport Wagon. Also get Stuck In The 60's With A Late 80's Nissan Pao.
---
Unknown Brazilian Cars 3 - Santa Matilde - ed-petrolhead
Fruit of the closure of brazilian borders for imports, the Santa Matilde was one of the most advanced and sophisticated fiberglass "fora-de-série"s ever made on Brazil. Nobody really knows how it really started, but the best theory says that Humberto Pimentel, an important businessman of the agro industry, and a gearhead, wanted to buy a brazilian made sports car, because he predicted that soon enough he couldn't buy parts for his Porsche 911S Targa. He looked for the more advanced car he could buy, but he was dissatisfied with the Puma GTB. He then wrote a letter to Puma, suggesting some changes to correct its structural and stability problems. Puma's response was negative, and instigated by this, he decided to build his own dream car.
---
In Case You Missed It: Super Formula Is Going Turbo, Too - Gabor Vajda
It isn't just Formula 1 that took a leap of faith for 2014, but one of the most hardcore single-seater categories as well. The best-ever sounding V8-based, open cockpit Super Formula (aka Formula Nippon) has turned their priorities to show off some propelled forced induction, going super touring later on.
---
Ariel Atom Honda Racing Edition – Moar Powah!!!!! - Kamil Kaluski
Sometime ago, at the Honda Performance Development, Inc. Headquarters in Santa Clarita, California, there was a meeting. In that meeting someone stood up and said "The TMI AutoTech Ariel Atom needs more power, it's just too slow. And it needs to stop better, too! And we should make our own version that addresses those shortcomings!
---
Technically WEC (World Endurance Championship) - LMP1 Debuts - Fractal Footwork
Technical innovation is what makes WEC so different from any other form of racing. The on track action is as much played out by the engineers and aerodynamicists as it is the drivers. We are here to admire, study, and discuss this beauty that exists on the ragged edge of what we think is possible, or at least what we thought was possible.
---
We need a Proper racing series! - JonathonW8
American's love their V8's. We have them in trucks, cars, racecars, and Corvettes, lots of Corvettes. Some have even found their way into less likely showcases, like motorcycles and blenders among other contraptions. But what we don't have is a truly awesome V8 race series. Now here is where I will get all the hate and death threats from the NASCAR fans. Please don't hurt me! But admit it, going around in a circle for 500 laps can get quite tedious for the fans watching.
---
Bernie should shut the hell up and try and help the Nascar team come to F1 - JonathonW8
In December of last year, the FIA put out an announcement that asked all those interested in joining as a team in Formula 1 please make their interest known. One of the first teams that expressed their interest was Gene Haas of Stewart-Haas Racing.
---
Sittin Waitin Wishin: 2014 Mazda 6 - JonathonW8
What is the Mazda 6; well it's what happens when you give a designer and an engineer the time and the cash to bring out a fabulous looking and brilliantly engineered car. Supplemented by SkyActiv and one of the best looking family sedan bodies in production right now. But wait, this is Sittin Waitin Wishin, we don't care about the exterior or the engineering! We only care about the interiors! So what does this brilliantly engineered and beautifully designed car have going for it on the inside? Well…
---
GM is on top of it's performance game right now - Logansteno
As of late, GM has been the best it's been in years. Cadillac is once again able to call themselves The Standard of the World. Chevy is now selling class-leading cars again. Buick is selling cars that people under 80 actually want to buy. And GMC is building competitive workhorses. But, over everything else, their performance sectors are coming alive again and breaking out in a mad spree of performance goodness.
---
8 reasons why Ronin car chase is awesome - BigNSlow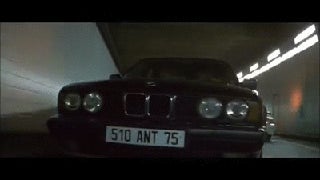 When they ask me to name the best movie car chases first titles that pop into my mind are Bullitt, Gone in 60 Seconds and Ronin. I always thought Ronin chase was underrated by movie critics. It may not be as long as Gone in 60 Seconds and not have as many car crashes as The Blues Brothers but it has something many other chases don't. Attention to detail.
---
Swevival: The Rebirth of an 850 Turbo, Round II - EddyE
"I'll have the best handling $550 Volvo in the country," I typed, perhaps with a bit too much enthusiasm. Rob, a racing buddy of mine who finds the romance between me and my 200+ thousand mile 850 Turbo a bit of a novelty, replied quickly with a laugh. With more than a few cars under his belt, Rob knows that decisions like buying a set of Koni Yellows for my ancient station wagon don't have to make sense to feel so right.
The Best of the Rest
Audi For Life took photos at Portland C&C. Twinturbobmw made a visit to Cats Exotics. Jagvar attended C&C in Great Falls, VA. BrownDogWelding is selling his F100. Stuttgartobsessed had a nice weekend of driving. It's a "Porch-uh" stopped by the Targa Trophy at HRE Wheels. MrTheEngineer visited the Auto Collections at The Quad. Asphalt took his Fiat 500 for a drive on Bedford Road. Motorsport Jedi shared photos from Hunt Valley C&C. DOMdotCOM showed off one of his old wheel setups. Burglar upgraded the sway bar on his Beetle. Quattro-luvr bought a 280Z. Aya took a quick ride in a 2002 Toyota Crown. Jkm7680 shared a couple of highlights from Katie's C&C. Meag8er was featured in some Bloomberg coverage on the new Corvette seats. DancesWithRotors had an adventure to pick up a friend's Volvo. Crazedclay's commute was interrupted by a collision. AncientOfDays got his AMC Eagle moving again. Stevo777 went to a car meet. YSI made a video of his new exhaust. 505Turbeaux's friend bought an e9. BiTurbo228 had to "massage" his oil pan. D celebrated the beginning of spring, I type as it snows outside, grumble, grumble.
---
As always, If I've missed something and you would like me to include it, let me know.
Discussions
There were several posts that asked questions and sparked some good conversation on Monday and Tuesday. Take a peek and chime in on some of those listed below:
Just the #tips
These posts have already been shared with Jalopnik directly but deserve to be mentioned again because they were first posted on Oppositelock:
Want to participate on Oppositelock? Check out the handbook for posting on OppositeLock as well the Oppo tools to help you get started.