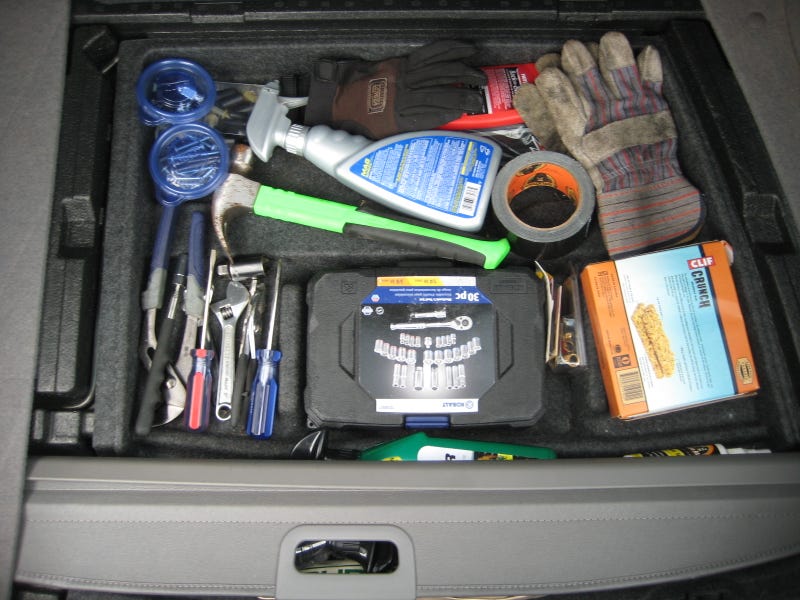 It's always good to have some basic tools in your car and maybe some other odds and ends. It has been discussed what is good to keep in your car and all that but how do you all organize it / keep it tied down? Everyone, not really but everyone should, know that loose objects in the cars are a hazard. My In my car I figured out a way to keep most everything I need and then some down where the spare tire is meaning no loose objects in my trunk most of the time.
This is what the divider looks like under the rear floor with the spare tire below it. There is a random assortment of screws and extra hardware from my mudflaps incase one rips in the round gladware. Other odds and ends, some basic tools that can get about anything done. Gloves, Duct Tape, glass cleaner, bug tar remover, wheel cleaner, shitty armor all interior spray (have to get something different, this stuff is just awful), heat shrink tube, electrical terminal things, and of course some clif bars because they come in handy every now and then.
Underneath all that is the spare tire with some oil, webbing, jumper cables, some wire in there somewhere, vacuum hoses, and then there are microfiber towels, wax applicator, and a wheel brush in the bags.
Everything fits in there great and is barely shifted around. Everything fits right as it should keeping the floor flat just like it is. There is also a little storage area right in front of this behind the back seat.
Always forget about this spot and never noticed it until a month or so after I got the car. I have in this one several beer coozies, wax, claybars, quik detailer, febreeze spray, apparently a bottle of Shout?, and a sven folding saw (really nice to have when going camping or going down seasonal roads).
Also shots of my car since I had the camera.