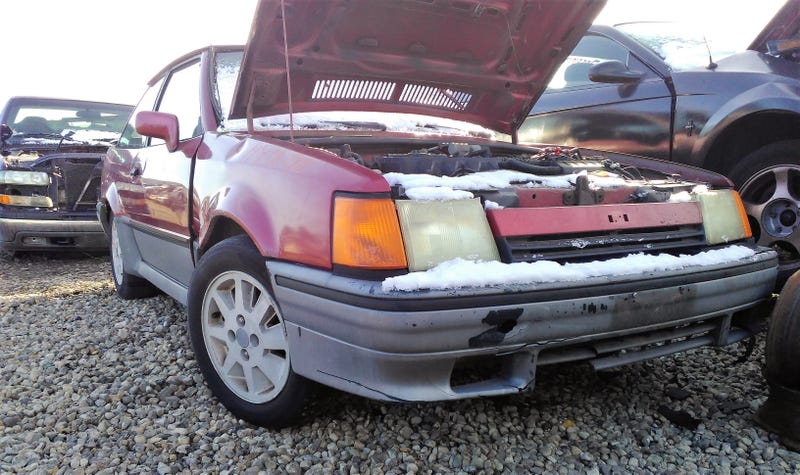 Who needs a fancy car museum where the cars are pristine and desired...The junkyard museum is my go to where I gawk at cars living out their golden years being harvested. Today's spotlight falls on a 1990 Ford Escort GT.
The Escort came into the world, touted as self-proclaimed "world car." It was supposed to be a one stop shop for American and European buyers alike with a simple no frills, lightweight aerodynamic car with a level of sophistication not traditionally seen in its class; 4 wheel independent suspension and a hemi combustion chamber engine head design to name a few.

The Escort's engine is harsh and noisy and HP was par for the course at the time. HP ranged from 65-80 is NA 1.6L suit. A turbo variant exist in 1984-85 which brought those rookie numbers up to 12ohp.
This junkyard spec had a later bored out 1.9L naturally aspirated high output engine which put out 110hp. Such a simple no frills engine bay on these things.
This one was very clean for being 29 years old. A very handsome car and a real treat to see in a sea of Dodge Neons that usually litter this yard.
Wrapped in 15" alloys with worn out Pirelli tires.
The interior has seen better days, that doesn't take away from its charm though.
95,341 miles on the odometer.
GT with manual gearbox for the business.
80's to early 90's was a weird time with all sorts of electronic gauges on cars.
The glovebox is a bloody time machine.
Huge fan of the headrest design. The normal side bolster rips that I know all too well from GM cars of the 90s.
Such a cool car from a time long gone. Thanks for joining me on celebrating a car no longer loved with a most certain fate to the crusher. I'm sure it brought a smile to it's many drivers in life, it sure brought a smile to me.