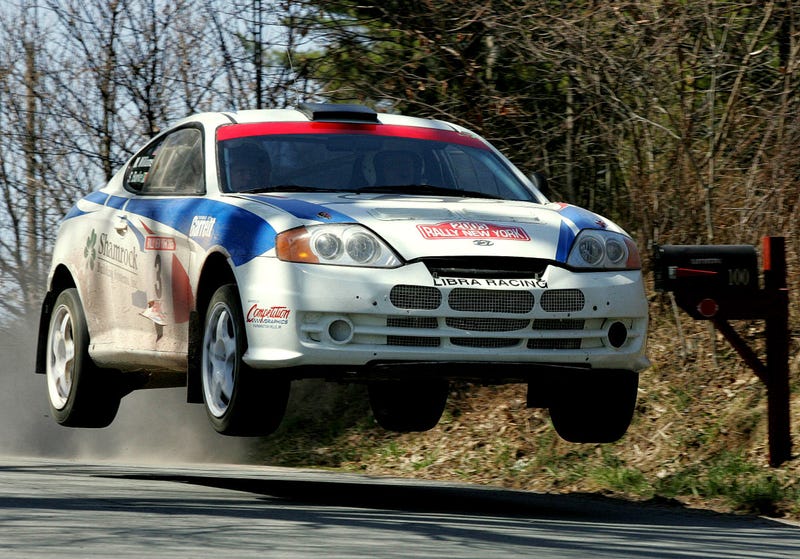 When we ran the 100 Acre Wood rally it (unexpectedly) became our first winter rally. Now we're signed up for what will be another first for me, my first tarmac rally. TAG Rally Sport is coming back east so Rory and I can contest the Empire State Performance Rally, based in Rock Hill, New York, 80 miles northwest of New York City and, rather conveniently, 160 miles from my home in Western Massachusetts.
Behind the Scenes Series Archive
Note: Behind the Scenes Part 5 is a technical explanation of pace note book prep, as promised, and is in the process of being written.
The Empire State Performance rally, being contested on April 20 & 21, is the only all tarmac rally still being run in the United States, and is known for triple digit straights, technical, flowing corners, and big jumps. Rory ran it last year with a different co-driver and absolutely loved the event, calling it his favorite rally of the year. When it was announced the event was returning for 2013 (there was some uncertainty as to its fate) with the largest car count in recent memory (52 cars currently registered) Rory decided it was absolutely worth the cross-country drive out.
With the event so close to home my pre-race prep is much simpler. I can drive myself to the event this time, instead of needing to find an available (cramped) seat in a tow rig. This eliminates the lion's share of the anxiety and frustration, allowing me to focus entirely on getting my equipment in order. Which isn't to say I have little to do. Top priority as always is to reserve my neck restraint from Safe Drives. Having taken care of that my remaining tasks include buying new tabs to use on the pace notes and transit route books (to be talked about in part 5), wash my race suit, which managed to find mud at 100 Acre, do my laundry, add a new Sharpie to my co-driver bag, and track down my race shoes, which have had an identity crisis, apparently believing themselves to be socks, and have mysteriously disappeared.
As mentioned in Part 2, I like to try something new every rally. At 100 Acre it was attaching the time cards to a clipboard to make it easier for control workers to write the time and easier for me to store the card in the car. The clipboard was an absolute success and will be making a return for Empire State. My new trial item this time around won't be an item (though I do intend to look at alternatives to Post-It flags for my note book tabs) but a change in my note calling. Up to this point I've always called !, !!, and !!! as CAUTION, DOUBLE CAUTION, and TRIPLE CAUTION respectively. For ESPR I intend to call them as CARE, CAUTION, and DANGER, an alternate calling system which is often used in European rallying. The reasoning (as it was explained to me) is that it's easier for a busy driver to differentiate between the warning levels, whereas in calling them all as varying levels of caution the driver might hear double caution when the co-driver actually said triple caution. Of course if all else fails I can always fall back on the time honored tradition of hitting the driver in the head with the note book.
If you live in the northeast be sure to come check out the rally, it should be an excellent event and the field includes everything from a Mark II Escort to a Merkur to a Nissan Frontier to a BMW with hand controls. Track us down in service and I'll give you a TAG Rally Sport cowbell.