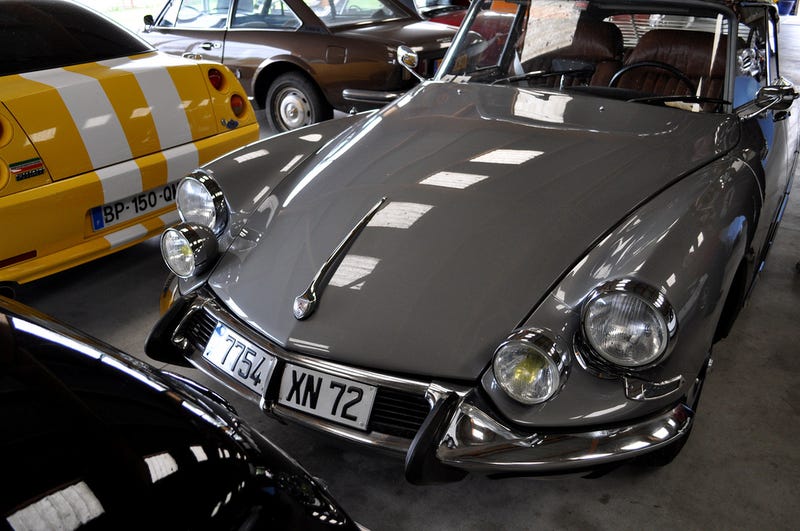 Pardon the blindingly obvious, but it's like visiting an entirely different country. 9/10 cars are French, and most are slightly beaten-up cheap diesels from the late 80s/early 90s. It's great to see cars that are very rare anywhere else, like the Renault Safrane and the Citroen CX (I even saw an Alpine A310 in the wild) but the vast majority of cars seem to be tediously dull*. That is apart from this little classic car garage in the village next to our home.
It's called 'Auto Passion' and is full of really oddball classics. There's the DS in the lead image, replete with the best interior of any car I've seen (and windows so reflective as to ruin any attempts I made to picture it).
There's an Alpine A610 Turbo, the fastest Alpine to date, placed purposefully next to a 911.
There was a gorgeous brown Peugeot 504 Coupe, with probably one of the best badges I've seen on a car...
There was a late 50s Panhard, which looked like a spaceship...
Next up was a very pretty Pininfarina-designed Peugeot 204 which was very tempting...
In front of the DS was a rather nice Traction Avant...
We couldn't tell whether this was a starter or a supercharger:
And next to that was a colossal Cadillac DeVille. Not often the French will acknowledge the existence of other car manufacturers...
...but why would you when you've got kickass little things like this Simca 1000?
For the statesman in you (and the statesman that needs to move lots of stuff) there's this Peugeot 403 and 403 estate.
Also bringing up the rear-engined brigade was this Renault Dauphine:
It was only after seeing this badge that it occurred to me that 'Dauphine' means 'Prince' in French.
Also holding up the international front there was a Fiat 850 Spider and two 914s (one of which has had the indication ridges smoothed off).
...and lastly, there was this kickass little Citroen Acadiene, one of the replacements for the 2CV.
There's more pics in a flickr set here if you're interested.
*that may be something to do with where we're situated, it being very rural and not particularly affluent, but even the 6 hour drive down was fairly devoid of interesting metal