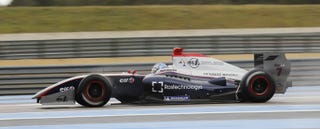 Thanks to a new round of investors in Formula 1 stalwarts Sauber, it's looking likely that 17 year old Sergey Sirotkin becomes a driver with the team as early as 2014. This is a bad idea. Why? Because Sergey Sirotkin is not exactly a good racing driver. How not good is he?
Well, let's start by looking at what he did in last year's AutoGP. In his time in that series, he won two races and finished third in the standings. That's respectable on paper, but seems far less impressive when you look at the competition:
Antonio Pizzonia, the former Jaguar F1 driver, won two races in just four starts, the same number Sirotkin won in his full slate of fourteen. Pizzonia spent the first half of 2013 paired with Gustavo Yacaman, a driver thought by his fellow Grand-Am drivers to be so dangerous that they often publicly request his retirement via Twitter. When racing together in Detroit, Yacaman was an average of 1.5 seconds a lap quicker than Pizzonia, as you can see on sports car racer Mike Heldund's rather fantastic loop data breakdown of the event here. Oh, and he also did this at a Jaguar press event once.
Pål Varhaug scored three wins en route to his second place finish in the AutoGP championship. Before that, he found himself running the first ever GP3 season in 2010 and winning it's first ever race. Unfortunately for him, however, that was to be his only ever points finish in the class, as he went on to finish no better than 11th in any feature event, no better than 8th in any sprint. Despite the lack of points, he still graduated to GP2 in 2013, where he repeated what he showed through the majority of his GP3 career and went without scoring a single championship point. Once again, his best ever finish in a feature race was 11th and his best finish in the sprint events an 8th. After scaling all the way back to AutoGP in 2012, he returned to GP2 in 2013, only to fail to score a single point in his first two weekends of racing and leaving the series once again. His replacement at Hilmer Motorsports, the GP2 program for which he started 2013, scored a podium in his first feature race of the season and already has two sprint race wins. He has only run at four GP2 race weekends in 2013.
What of Adrian Quaife-Hobbs, polesitter at six of seven rounds, winner of five of the fourteen races and the champion of the 2012 running of the Auto GP World Series? He's since moved on to GP2, where he's found himself struggling to score points. He's only done so in two feature races of the six run so far, and though the grid inversion put him on the front row in both of the sprint events following those features, he could only once convert that position into a sprint race top 5, a second at Monaco. Before his time in AutoGP, he spent two seasons in GP3, scoring a win in his second season but only scoring points in nine of his thirty two starts.
Now that we've established the drivers proven to currently be comparable to or better than Sirotkin, let's see what two of those drivers, Quaife-Hobbs and Varhaug, have faced in the 2013 GP2:
The series is currently being lead by fourth year Monegasque driver Stefano Coletti. He has never finished better than 11th in the GP2 title standings. He has won three of the grid inverted sprint event, but not yet a feature event.
Second in the title hunt after six of eleven race meetings is Felipe Nasr. He is only in his second year of GP2 racing, but he finished just 10th in the championship in 2012, his first ever GP2 season.
Fourth in the standings is Fabio Leimer, who is in his fourth year of GP2 competition. He had never won a GP2 event prior to the 2013 season and has never finished better than 7th in the championship standings.
In short, this is a spectacularly weak year in the GP2 series, which has been on decline since the incredible field of it's debut year. This is a series in it's third consecutive year of decline since Pastor Maldonado was a champion, a series in decline from last year where Esteban Gutierrez (one of the drivers that could be Sirotkin's Sauber team mate in 2014) and Max Chilton finished 3rd and 4th in the standings, and the only serious competition Sirotkin has faced to date have done absolutely nothing of note in it.
Let's move back to the series where Sirotkin spent 2012, the Auto GP World Series (a class that runs retired A1GP cars and usually shares it's race weekends with the WTCC), for a look at how 2013, which sees a significantly stronger field than the 2012 field that the young Russian was a part of, is going for them:
After his hopes of a miraculous entry by HRT for the 2013 Formula 1 world championships failed to materialize and his experience of being laughed out of the IndyCar garage despite bringing massive money, 2010 NASCAR Camping World Truck Series Most Popular Driver Narain Karthikeyan decided to cut his losses and spend 2013 in AutoGP. Karthikeyan's career in F1 consisted of 46 starts, five career points (all at the 2005 United States Grand Prix, where he finished fourth of six entrants), two career obstructions of the "107 percent rule" (and by extent two failures to qualify in a series where grid spots are franchised) and one occurrence of being likened to a small cucumber mid-race by the then reigning world champion. His one attempt at sports car racing ended when he fell off the pit wall and broke his arm during the morning warmup for the 2009 24 Hours of Le Mans. His one attempt at stock car racing saw him debut in the Camping World Truck Series with a finish two positions better than that of Kimi Raikkonen on his debut, but saw him fail to better it in his next seven starts. He scored the title of most popular driver nonetheless (Nelson Piquet Jr went on to win that same title in 2012, a season in which he scored two wins and didn't once wreck in order to bring out a caution for a team mate). His attempt to go IndyCar racing at the beginning of 2013 ended when Dale Coyne, who once ran Milka Duno for a full season, decided that splitting his second car between whomever was available and sponsored on any given weekend was a better move for the team than running Karthikeyan for the full season with his large and assured funding. Despite all of this, he's already won as many races in the first half of his first career AutoGP season as Sirotkin did in his entire debut AutoGP assault and sits fourth in the standings on the heels of his two victories.
Kimiya Sato, who has tested with Sauber and could potentially be Sirotkin's team mate in Formula 1 as early as 2014, is tied for the title lead and already has three wins. He finished 10th of 11 full season entries in the 2011 Formula 3 Euroseries.
Sitting in third in the standings is Vittorio Ghirelli, who has completed two full seasons of GP3 racing and one full season in the World Series by Renault. He has scored points twice in a combined 45 races between those three series.
Finally, let's look at how Sirotkin is doing in the 2013 World Series by Renault:
He currently sits 8th in the title standings, almost entirely on the heels of a fantastic race weekend at the Motorland Aragon in which he finished 4th and 2nd. In his seven other starts, he scored points just once. Aragon is not on the GP3, GP2 or Formula 1 calendars and likely will not be in the future.
Last year's 8th place finisher in the World Series by Renault? Arthur Pic, Charles Pic's seemingly less talented brother. Pic currently sits in 7th, one position ahead of the young Sirotkin.
Sirotkin's lack of talent is standout even within a ladder system that sees Max Chilton contending for championships at it's top level. To say he is woefully unprepared for Formula 1 is as much an understatement as saying Sebastian Vettel is overqualified for a seat in AutoGP. As I see it, he needs at least two full seasons in World Series by Renault (to develop what talent he has and to race against some of the drivers he will be facing when he goes Formula 1 racing, including Red Bull development program standout Antonio Felix Da Costa and McLaren development program standouts Kevin Magnussen and Stoffel Vandoorne) at least one full season in GP2 (to learn the majority of the Formula 1 schedule and spend time in the Formula 1 paddock as the series is intended to help young drivers do) with Free Practice 1 runs for Sauber in that final development year at tracks where GP2 does not compete. However, it seems that Sauber's newest investors are far too impatient to continue the young Russian down a more traditional development path, and as a result Sirotkin will likely spend 2014 struggling to get to grips with a Formula 1 car, not to mention the Formula 1 competition level. That process could take as much as three years, and by the time he does reach his talent ceiling, he's still staring down a Pastor Maldonado or Vitaly Petrov career path at best, one featuring sparse great results in truly competitive cars rendered inert by mistakes and poor finishes.
However, the funding that these new Russian investors bring is definitely needed for the struggling program to prepare for the vastly different 2014 regulations, and when the choice may very well be between fielding a driver that's too young to drink by three full years without any track record of success and not showing up on the grid at all, Sauber's decision is surely the one any team would have made.
(Title photo via the World Series by Renault)