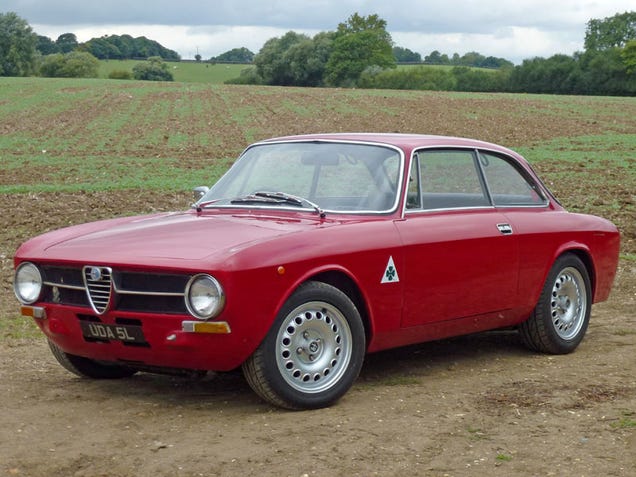 - A rare model that was originally sold new in England and believed to have always been finished in Alfa Red

- Thorough body and engine rejuvenation in 1990/1991 with a photographic record and many invoices, and repainted again in 2008

- Alfaholics suspension and 15" wheels fitted but original wheels and bumpers supplied, plus cylinder head overhauled in 2010This Bertone designed Alfa Romeo coupe was first registered on July 1st 1973. Painted in Alfa Red with a black vinyl interior, the car was the recipient of much body and mechanical work during 1990 and 1991, including a repaint of the body, a retrim of the interior, and new pistons and liners and engine bearings. The car was repainted again in 2008, and in April 2010 it was purchased by the father of the current owner, with it being registered in his name the following year. The GT Junior has been much enjoyed by our vendor, and in 2010 he had the cylinder head overhauled and in 2013 he had an Alfaholics Fast-Road Suspension Kit B fitted, along with their 7x15 GTA style alloy wheels. With the history file containing invoices and photographs for much of the work mentioned above, there are also many previous MOT certificates, one dating from 1991. Described by the vendor as being in "good" condition with regards to the body, paint, and interior, with the engine described as "very good", it is believed to be supplied with its original wheels and bumpers.
http://www.handh.co.uk/buy/1973-alfa-romeo-gt-1600-junior/13247

No interior shots though. hmmm.
It's from an auction at Duxford Aerodrome, UK 12th Oct. (http://www.handh.co.uk/auctions/calendar/199/imperial-war-museum-duxford)
Two wheels good?
Yours for an estimated £6000-£7000 auction price.
Lot 13 might be of interest if you fancy a bit of renovation - practically a genuine"barn-find" E-type.
Go take a look, many straight-forward classics with a quite few quirky vehicles sprinkled throughout.
Did I say quirky?
Or if you need a new power unit...
http://www.handh.co.uk/buy/automobilia/rolls-royce-merlin-25-engine/25589