I've been driving the truck to work nearly every day this summer, and today I got the Prime Spot. Not the one closest to anything, but the corner spot where there's just a little more room because they didn't plan the lot properly, and as a bonus, you get this beautiful building in the background - one of the academic buildings on campus.

Interesting side note: every October someone puts pumpkins on the spires of the clock tower. They are very secretive about it, and only a few people know exactly how it's done. I'm not one of them. Right now you can still see the remnants of a rotted pumpkin up there that never fell completely off last year. It's a cool tradition; you never know exactly when they'll appear - or when they'll fall! I was walking by the building one warm January day and had one fall right next to me. It was quite soft and rotten, so it wouldn't have hurt, but I wouldn't have loved a wet pumpkin on my head, either.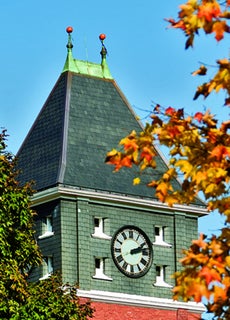 That is all. Happy Friday.