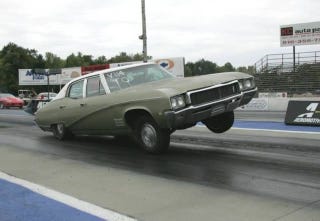 Insane launch from on old ass Delta 88 (more like a Skylark) for your time :]
Some sort of box truck flipped on its side and blocked up all the lanes this morning. I got to work exactly 2 hours 10 min from when I took off. Avg. speed was 11 mph. NEW RECORD!!! *Price is Right sound effects* Still, waaaay quicker than walking, biking, and public transport according to Google by a lot lol. Plus a couple bonus things :]
Pandora decided to be extra awesome and played some good THRASH. More importantly, a lot of instrumental thrash metal.
Second, me and some dude in a ABC work truck in front of me noticed some lady in an old Jaaaaag XF bouncing in and out of the emergency lane cutting mofos off behind us. She stayed in her spot for a while before she tried to go by us. We both blocked her ass in lol. Hellz nooo you aint trying that shit by me! So that was also quite fun :]
Next, my boss told me that it's super dead at work and not to stress ou about being late. Feeling generous, I stopped before pulling into work at this little taco trailer I like to go to and picked up everyone some breakfast tacos (REAL tacos, none of this hipster shit. LOL Austin and LOL using flour tortillas, no mamen guey). I'm talking extra super greasy barbacoa (the real kind made of pork, not beef), greasy chorizo and egg, some with just some thick cuts of bacon, a couple chicharones for me, and some with huevos rancheros.
Last, once I found out there wasn't any flooding from the insane storm last night, I took the Zapatito today which instantly makes any drive that much more fun :]