Here's a sum up of the events that happened recently.
School- Finished my spring semester on Friday, and I'm on to summer break!
Work- Just kidding, I started my new engineering internship today! So far so good for orientation. I'll be learning a lot about automotive interior design, upholstery (which is a form of ART), and the machinery used to make them.
It should only get better/more difficult from here...
Car Things- The MetroD MI Oppo Meet was Saturday, and it was a fun get together. Got 100% Pure True North Amber Gold (Canadian Cocaine/Canadian Maple Syrup), and it's delicious. Best maple syrup I ever had and still have.
Random GIF- Jedi Polar Bears

931Lyfe- So I've been tinkering with the car for a couple days. I've cleaned up the grounds, checked for spark (got it), fuel (got it), air (I'm still breathing), and with all these things, it should start. But it doesn't.....Because CIS and old electrics. Also, the headlights are stuck open.

So I've replaced many of the fuses and am currently checking on the relays. A new fuel pump relay will be here tomorrow, and new sealed beam headlights will be hear as well. Also, someone put an early 944 window relay where the additional high beam relay should be, so that's been removed. A new headlight motor relay will need to be ordered soon, after cleaning the contact points on the current relay produced no positive results.

The last thing I've been working on is removing and touching up the light amounts of surface rust around the car. Fortunately this is rather simple with my dremel/grinder and a careful hand not to go overboard. I'm not looking for perfection with this series of exterior repairs, but anything I can do to keep this car alive is more than worth it to me.
Life- Things are going well I guess, I still end up fighting myself more often than not for certain things every now and then though...I'm also starting to lose my faith/hope/beliefs in people of all kinds; even those I'd consider friends... :/
Tell me, is it my job to contact people all the time, or am I not worth the effort of contacting first? I'm I not an interesting individual with a lot to offer? Am I not important enough?
Do you have to threaten(correction, the word I was looking for was 'bug')/force/demand people to do stuff to get what you want? Is being friendly and kind just an open door to disappointment, being used, and letdowns?
Is patience truly a virtue when other people exploit your patience and tolerance?
It seems every time I make plans or want to and text people to set things up, no one ever gets back to me on whether or not they will make it or not; and if they do, it's days later after the fact if at all. Common courtesy aside, I feel like I'm not important enough to be worth the courtesy.
Why do people suck?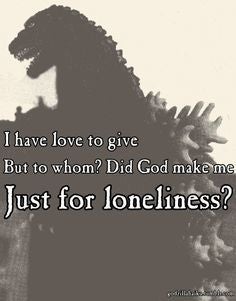 It's been over two months since I've deactivated the Facebook, and still nothing has changed aside from my not relying on social media improving. I spend every day by myself and any form of social activity is a miracle it seems. Maybe this internship will help, but it's been getting more lonesome day after day and it isn't something I feel I will adapt to.