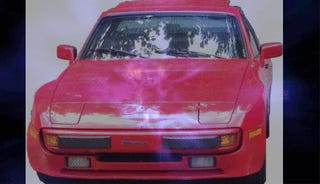 Now that I've almost confirmed there's a chance I'm not the third owner of the car(unless the first owner decided to get 5 different titles and 1 duplicate), I have some backtracking to do. Here's what I have to work with.
At first, It was my understanding that it was originally an Ohio car. However; after yesterday's Autocheck and last years Carfax, both thanks to two Oppos, I now know it's been a Michigan car since at least 1996. What's more, this car had been around me almost my entire life from the reports. Look at this report:
Now, look at this map:
This map I've made tracks the 944's movements from March, 1996 to Today; the only time period I left out is the previous owners history, because everything he's told me from when he bought it to now checks out. I was born in 1995, and the blue circle denotes where the car currently is, which is where I've lived my whole life!
March '96-March '00 in Dearborn Heights
November '00-January '06 in Troy
April 14, '06-April 14, '06 in Clinton Township
May 25, '06-May 25, '06 in Macomb
Now this first group of dates makes sense up until the last two, how is that even possible??
September '06-April '08 in Royal Oak
April '08-October '08 in Ferndale
This set of dates lines up with what the second owner told me where he bought the car from. He bought it right by that bend in I-75 in Ferndale. That tells me that the only unusual history I need to figure out is from 1984-2008.
Now, there are at least four Porsche shops and two dealers that may have worked on the car(unless some random shop did the work, but given the good condition of the car, especially for having that many reported owners, I doubt it was taken anywhere random or sketchy. I also have the one shop in Ohio that worked on the car during the second owner's tenure between 2008-2014.
So, what can we gather, if anything so far?? Anyone have any guesses they'd like to throw in? Anything I just might now be seeing here? I'm gonna be running by at least two shops that may have seen the car before tomorrow, so I'll let you guys know if I find any breakthroughs.